Cannabis light and packaging. A combination that has left its reference niche, attracting great public attention both in physical stores and online. Let's find out how instrumental packaging can be to better position this sensitive product.
Cannabis light and packaging. In Italy until 2017 the inflorescence of cannabis sativa were available only on the web or at a few smoking shops, hemp boutiques or sector franchises. Slowly the sale of cannabis light also spread within tobacconists, stationers, bars, newspaper stands, clubs and even in pharmacies.
Notwithstanding some legal disputes, the demand continues to be on the rise. Let's see some examples of virtuous packagings that are contributing to the success of this new sector of retail and eCommerce.
Today we want to start by literally dropping a bomb. The so-called "bath bombs" are rocking the stores of herbal and natural products. When they come into contact with the water in a bath tub, they explode with perfume and color like flowery mines. In the United States there are many types on the market and we want to review two of them, respectively mint and grapefruit flavored, with some extra relaxing property. The packaging is a cardboard box with a window so large that the text is reduced to the bone: "Content is king, design is queen". There is a reference to the main color note, some bubbles with the basic lab information and success is served.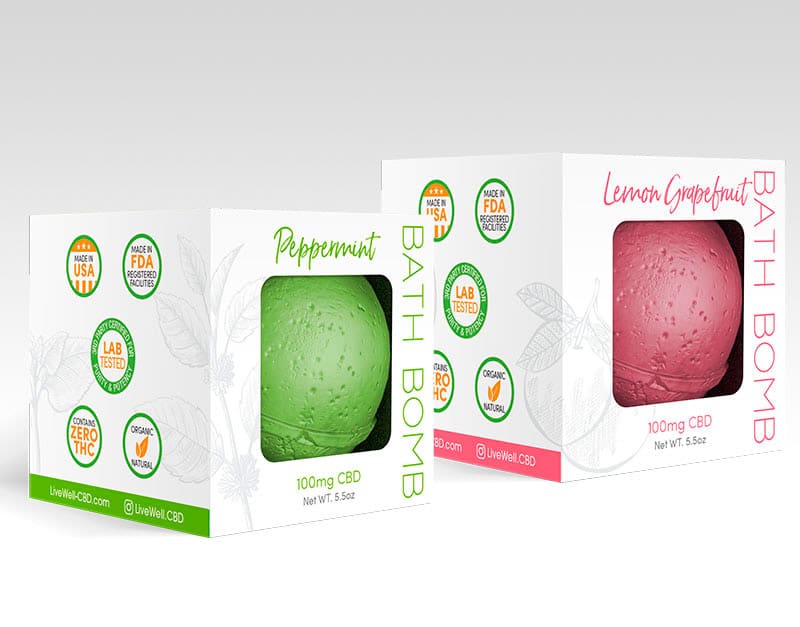 After cosmetic products, food has once again benefited most from the contribution of hemp both for direct food consumption and in drinks, as well as in dietary supplements. Cannabis light and packaging are an unusual association that can create unprecedented synergies for increased sales by even the most skeptical consumers.
How? Playing it on gluttony for instance. Look at this rose essence chocolate bar with the addition of hemp. After a stressful day at work, coupled perhaps with an argument with the boss, who wouldn't want to relax on the sofa and bite into a delicacy with an exotic flavor and decidedly relaxing power?
The packaging is very elegant, it almost seems to recall jewelry. There is an essential repeated pattern, with a captivating payoff. The focus is the powder pink of the flower being the main ingredient. In a chic and suggestive fashion, hemp leaves are referenced through very thin straight lines, almost as to symbolize a star. The target is high profile, probably more feminine. The box is a shining example of persuasive allusion.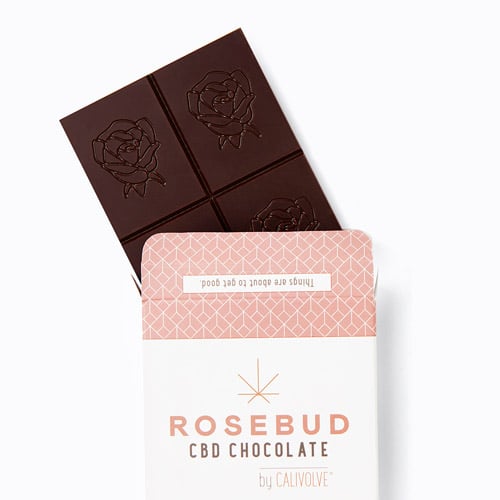 Staying on the stars and stripes market, we find another classic: cookies. The hanging box containing the gluten-free biscuits with added proteins is very practical. We immediately notice that the sweets are packaged with material graphics and pastel colors like a superfood. In this case, in order to meet legal requirements, the hemp content is highlighted both by the unequivocal image of the leaf and by the prominent red hand, inviting to keep the product out of reach for children, for obvious reasons.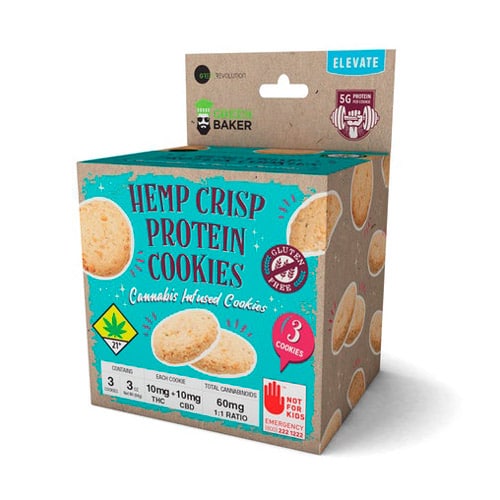 If you are not greedy by nature, you can console yourself with a very healthy hummus. We find a colorful green sleeve, absolutely descriptive of the product, with the nutritional indications on a raw cork background. The message is simple, consistent and direct.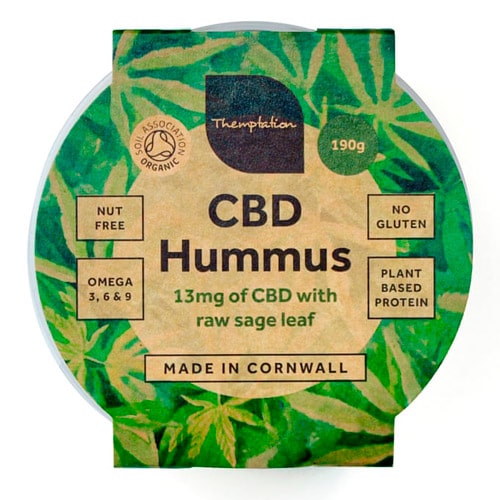 Now let's move on to food supplements. We can distinguish very different approaches both in formats and in packaging, all equally effective for the target audience. Let's start with an elegant pull out box with minimal graphic treatment, in a pharmaceutical-style, played on very light shades and without specific reference to the added component. This is also very feminine.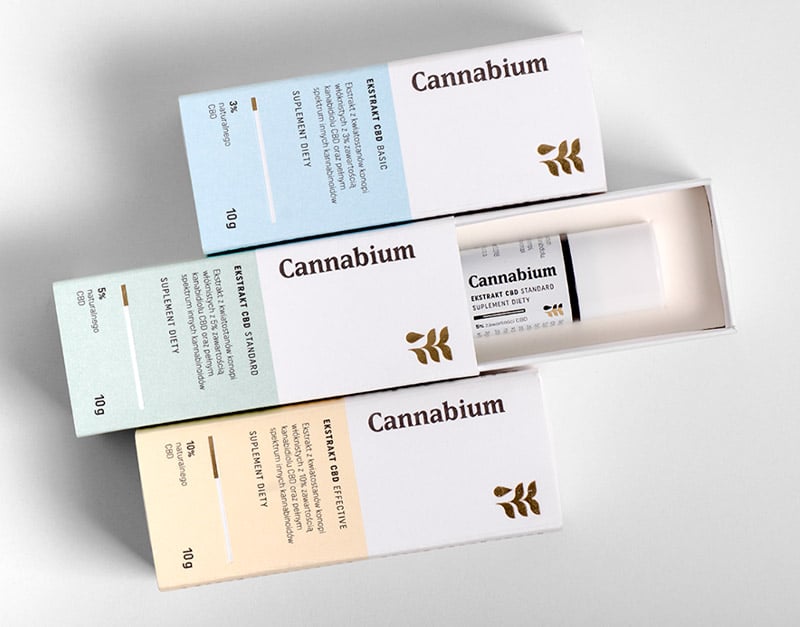 Let's carry on with a slightly more explicit packaging for gel capsules, with the photographic image of the content but having a bolder look and feel. We could define it the "Bollywood" style for the artwork and the more stylish colors on the elegant linear case. This is for many but not for everyone.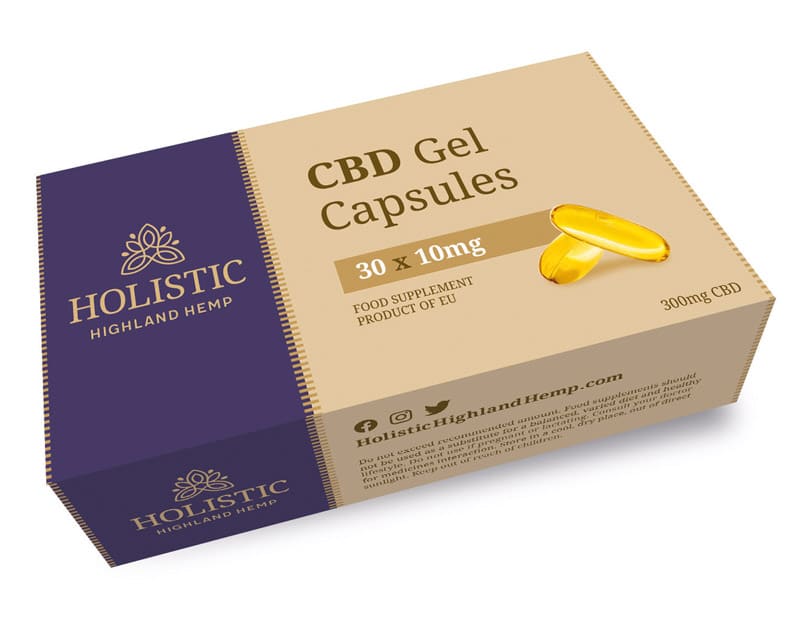 Let's wrap this up with a box for infusions with a very colorful and cheerful look, therefore down to earth and oriented to young people, being connoisseurs though, because the cannabis content is revealed only to a closer observation.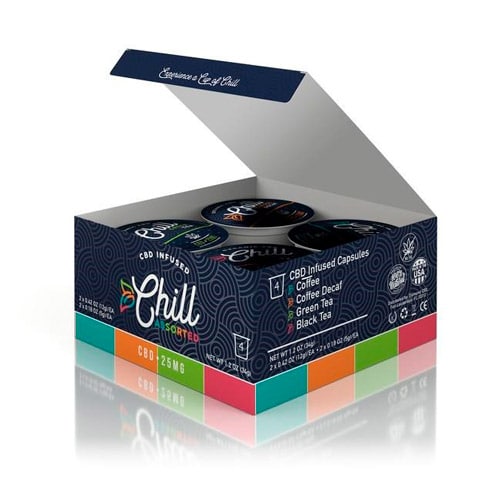 Conclusions
Have you found a format, a case, a box that would adapt very well to the products you intend to market? Great! Start from a prototype, work on integrating the elements of your brand and Packly will take care of the rest!