Christmas is coming and you will have definitely started to unwrap wonderful gifts of your Advent calendar, didn't you? If you have already bought, realised or gave this amazing product, our post will be useful for the next Christmas days. But, if you didn't, you are in time to create your personalised calendar: with 9 small boxes less, sure, but with many others still to discover! How? I explain you it with our creative proposal of "Beyond the packaging".
The Advent calendar is a common use of German lands, now popular all over the world, that was born to sweeten the waiting time of Xmas holidays. A very calendar made up of 25 slots or Christmas boxes, exactly numbered, where presents are hiding: every day, according to the date, a packaging will be opened to find out the small gift inside it. Being an ancient and widespread tradition, you can come across several versions of this kind of item on the market: today, Packly gives you its own proposal.
How to realise an Advent calendar with your custom Christmas boxes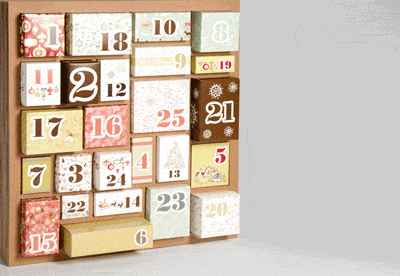 Let's start from the external holder: a corrugated cardboard structure realised through square frames, specifically shaped and glued on top of each other to give the right thickness to the composition. In order to create it, we used a double-wall cardboard from which we obtained, cutting it with a simple paper cutter, 13 identical frames, then overlapped. Internal openings, which are windows of different forms and dimensions, have to contain the Christmas boxes that compose the calendar.
We realised the packages starting from the tuck end box available on Packly that has been personalised for every single pack. That's easy, isn't it? You need just to create the cardboard frame, generate the boxes die-cut templates directly on Packly, insert your artwork, print and cut them. And if you don't love do-it-yourself, you can print your packaging directly with us: you will be sure to realise an unique Advent calendar with your custom dimensions and graphic design.
Our packaging proposals are characterised by typical Christmas graphic elements: reindeers, snowflakes, sleds, decorations and snowmen coming in our boxes to let you soak, at a glance, in a party atmosphere! The pastel colour palette is used on every box in a different way in order to create a coherent visual image and preserve, at the same time, the uniqueness of any single box.
Let's realise this amazing product: the ideal gift for young and old!
Technical details of the packaging:
Packaging type: Same panel tuck end box
Printing method: Digital print, four-color process