Christmas food packaging. Never as this year do we need to convey closeness to our loved ones in an original, warm and enveloping way.
Christmas food packaging. At the end of this year marked by confinement and social distancing, it is possible to find a new approach to the upcoming holidays through joy and hope.
Dinners and family reunions are banned. There is a strong need for carelessness, joy, festive and auspicious tones for the future. Packaging can also make a difference in this area. Many brands have already started working on this topic. Why not take a cue and reproduce some ingenious solutions with Packly? Let's see how.
We will start with a splash. During the lockdown in March and April, Italians obsessed over baking at home. All good with pizzas and bread loaves, but what about the evergreen panettone? We thought of a super-portable tuck end box with extremely accurate retro graphics, coupled with an artist's touch. No bows or frills are needed. Just a detailed and fascinating illustration of a lady from the beginning of the century, proudly showing the classic Christmas cake on a tray. The brand name on the front is covered, relegated to a balloon on the top left corner and to the sides. Nevertheless, the result is a delicate but memorable visual impact, the balance is resolved, success is guaranteed.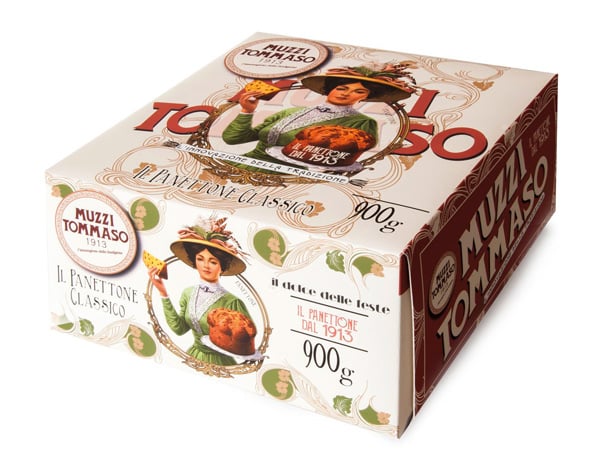 Let's stick with tradition, but this time from beyond the Alps. We are proud to present a splendid tray box in an unmistakably Christmassy red, with a photograph of greedy and colorful macarons, surrounded by a few sprigs of fir and candy canes. Elegance, classicism and a precious impression are assured. The package can also be reused to contain a cutting and sewing kit, for example, in full Provençal grandma style.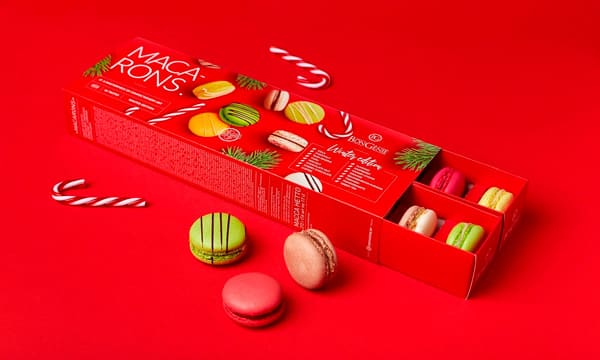 Red still dominates the graphics of this cardboard sleeve wrapping two distinct packages of a delicious chocolate-based dessert, already sliced, with a sumptuous matching red topping. Also interesting are gold embellishments, for a cheerful effect, striking the imagination of adults and children.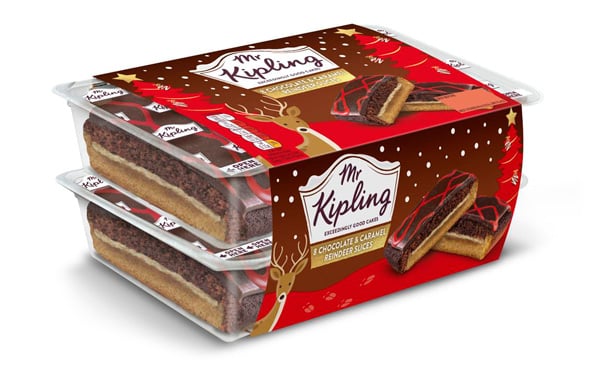 If the delicious advent calendars we presented earlier weren't enough, there's more. To make a family with several children happy, we have this interesting rollover hinged lid box containing mini chocolate packs with a cardboard toy enclosed. The gift is serial, original and ecological. It should be noted that the main color is in the shades of blue, not the most recurrent for Christmas, but nevertheless absolutely spot on.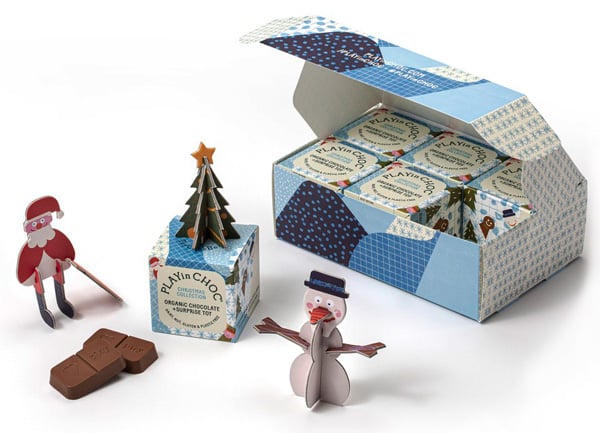 Blue for freshness, green for calm. This thought must have crossed the minds of the creatives who designed this snack pack. The box looks a lot like that of a tea or infusion, but it contains delicious chocolate squares instead, filled with gin and mint in a limited edition. Not a gift for the little ones therefore, perhaps not necessarily associated with Christmas, but a very welcome interlude to better tolerate the restrictions accompanying the unusual winter holidays ahead of us.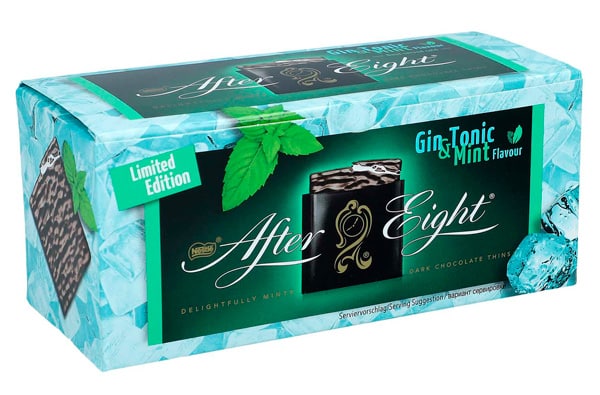 And finally… bubbles! Not the ones you are probably thinking about though. We are literally captivated by this conical bottle, reminiscent of a fir tree, with a precious monochromatic label and a green box for the so-called Christmas beer. Very essential graphics, photography enriched by some decorations, such as the sprig of holly, and that's it. A present being perhaps a little out of season and therefore unconventional, but nonetheless appreciated by lovers of good drinks.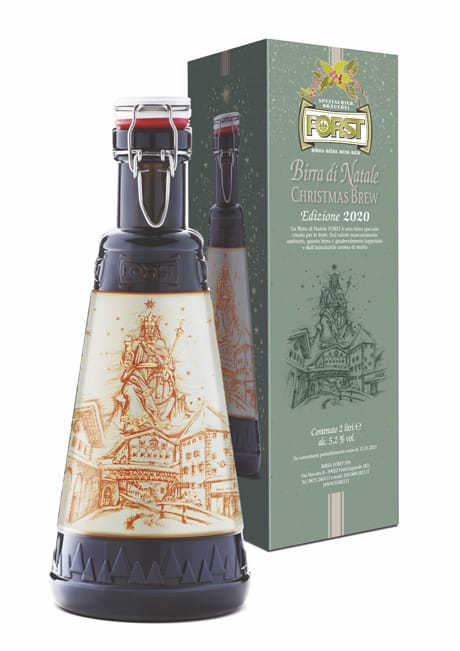 Conclusions
Do you, like good elves, prepare Christmas-themed packages for your traditional sweets or for innovative gifts warming the hearts of your distant customers? Experiment by creating prototypes with Packly. In full "distant but close" mood, we will take care of producing and delivering them wherever you wish.