Have you ever wondered why a custom packaging is an essential tool for the success of a product, brand or any activities?
We talk continuously about internal potential of custom boxes – and especially about that one printed outside! –; in addition, we have often spoken about package functionalities concerning internal sales and advertising strategies in order to achieve success on marketplace. So, let's try to explain on the whole what custom packaging is and why you should choose to realise it.
Packaging, beyond product protection and transportation, has taken on a strategic communicative role: in a market full of any kinds of products, all with similar functions and forms, how can we better differentiate our product? Someone may think immediately: "That's easy, creating a new and different product". Of course! But, talking about products that have achieved such a technical, functional and formal level of development, unlikely to be changed or customized, how can we do?
The answer is the box. Box can make the difference.
Most of the products that must be placed on market need to be exposed, transported or at least protected inside a suitable packaging. Once launched, they need to show what they are made of in order to overcome competitors: achieving success in a competitive increasing market requires a great deal of effort, whether in planning or in communication. Being original and creative in order to amaze people and get noticed is what package reality is all about.
Custom packaging is the ideal tool to reach this goal: a business card to exhibit your product or service in a successful and appealing way. A dedicated packaging is also a synonym of high professional work and a great sign of attention to customers, an add-on used in order to fascinate consumers and build their loyalty. Boxes customization sends a clear message: "we take care of our products and users in greater detail, starting from the pack", and could lead to customers final purchase.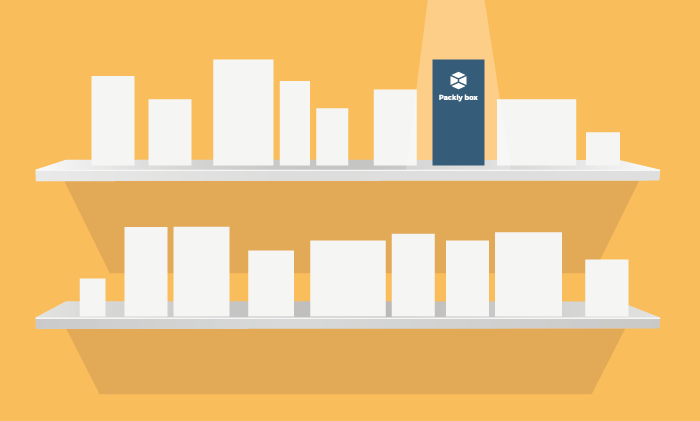 How to create a custom packaging?
According to products you need to fill in, first you have to set the dimensions of your custom box: you need to measure the product, or the items bounding box, and add one or two mm of tolerance. After the minimum sizes will be defined, you can choose the packaging type that will satisfy your technical and aesthetic needs, how? By looking at other package examples, analysing their technical and structural features and considering if their forms and functions could suit your needs; otherwise, you can realise a totally custom packaging. Once you chose the box type, it's time to create your own artwork, a crucial phase characterised by conceiving and creating the package graphic design in order to effectively convey your corporate message to consumers.
Packly is the perfect ally to create and print high-quality custom packaging without minimum orders. Our service allows you to realise the number of packages you need at unbeatable prices: you can design your final corporate packaging or order small print runs of special custom boxes (e.g. for sales, promos, particular events or welcome kit) in just a few steps. Choose the box type you prefer directly on website – a tuck end box or an elegant double wall tray, an auto bottom box or a wrap sleeve for your product – set the sizes, choose substrate and boxes quantity you need: Packly will generate your personalised dieline in real time, a professional vector file that you can download in just one click and that is ready to be imported into the vector graphic software you prefer (we recommend Illustrator®). Then you only have to create your own artwork upon it. And what about printing? We'll think about it! Once the quantity will be specified, you will directly visualise your live quote, according to the three different processing time available: Express with shipping in 48 hours, Standard and Economy. Once the purchase will be completed, you can upload your high quality print PDF file in your area 'My Packly'> 'Orders'.

And then? You will simply receive your custom packages at home! A useful marketing tool to make your brand identity stronger and effectively communicate your own corporate message, because you will decide the entire graphic design. Box design, graphic and structural, is one of the best ways to convey the values of a company both in shops, advertising campaigns and even on the streets (e.g. through take-away boxes). The dedicated packaging will increase your brand visibility and its recognizability.