Packaging for sensors and electronic boards: the DEA Security case. The components for intrusion detection systems also require functional and effective packaging. Here is the story of DEA Security and the boxes made by Packly.
Packaging for sensors and electronic boards: the DEA Security case. We got you used to talking about food, fashion, mystery boxes and case studies where very trendy consumer brands were combined with products characterized by imagination and creativity. Today, however, we want to tell you about a highly technological, sophisticated and innovative company that deals with anti-intrusion and protection systems, having found in Packly the ideal ally for its packaging needs.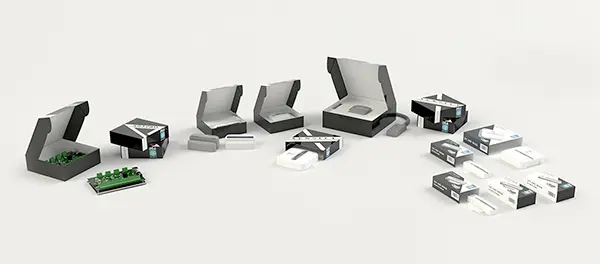 Our customer, DEA Security, is an Italian company that designs and manufactures a complete range of peripheral intrusion detection systems for the protection of fences, walking surfaces, fixtures, walls and windows. The entire cycle of development and production is made in Italy and cared for in house: from the initial concept to the series production, going through the hardware and software design, the creation of prototypes, the production and the field testing. Until recently, the DEA Security sensors were packaged in bags, while the electronic cards were placed in an anti-static casing inside single-colored micro-corrugated boxes, with simple labeling. And this is where Packly's versatility and customization come into play. A spokesperson from the marketing department tells us:
"The discovery started from the need to innovate, to package our products enhancing them in all their aspects: a packaging guaranteeing a functional, innovative, customizable approach, which could easily meet our production needs, highlighting our top articles, in particular for indoor anti-intrusion sensors".

Packly has provided us with an excellent service in terms of assistance, dynamic with respect to our supply needs, flexible and able to adapt to our manufacturing process.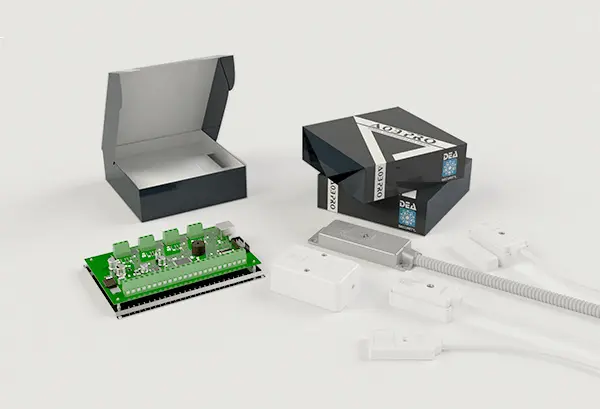 Packaging solution chosen by DEA Security
DEA Security chose a solution that was able to enhance the product, simplify the final stages of packaging and facilitate its logistical aspects (transportation, storage, etc.) without neglecting the looks of the boxes, that highlight the brand, help customers recognize sensors from the shelf to the end use. A path started with the top of range as regards interior protection, Xensity, a system capable of protecting every type of access to a property, continued with two other indoor series: A03 PRO and SPC PRO.
The DEA Security devices are housed inside elegant rollover hinged lid boxes and / or tuck end boxes, enhanced and embellished with cutouts improving the presentation and guaranteeing safety during transportation.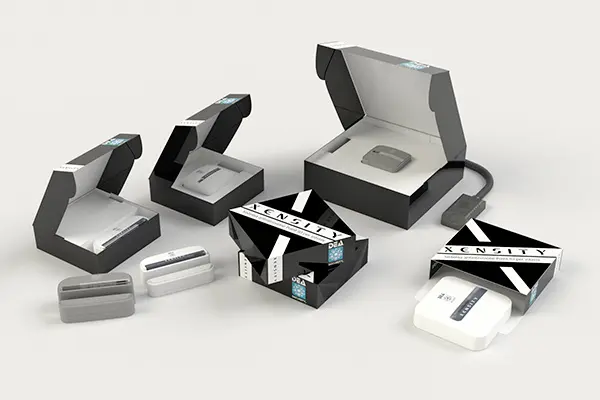 Conclusions
Do you also have technological products or components that you would like to pack in a practical but impactful way? Just create a prototype from our extensive catalog, personalize it with the distinctive features of your brand and Packly will follow you through the production phases to reach the best result for your goals.