Packaging has its own icons. How much of what we see today is borrowed from the past and what has changed? Find out on this fascinating time journey among the packages that made history.
Another decade of the 2000s is coming to an end, and it is time to strike balances. Packaging has changed in sync with lifestyle, taste and technology. What are the icons that have shaped the current world of packaging? At Packly we have a rather precise idea, maybe not universally shared, but for sure vaguely nostalgic and above all inspiring.
Have you prepared a cup of hot tea and the handkerchiefs for the tender-hearted? We are about to start our journey through the icons of packaging having marked and crossed the eras.
Let's start with a legendary Made in Italy brand, which has made us famous all over the world. The sector, needless to say, is food and the brand is Barilla. The blue packs with the unchanged red ellipse and the white typeface are recognizable everywhere, but they have not always been so. In the archives of the web we discovered one of the first prototypes of pasta Barilla packages that we want you to observe closely.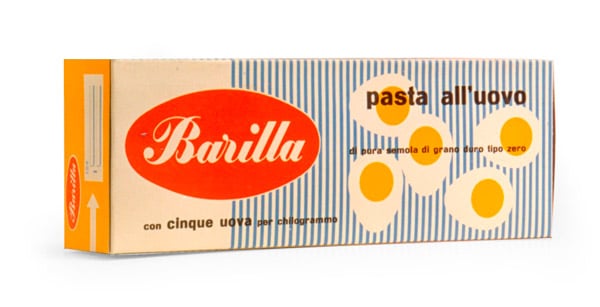 Blue is there, but only through small, non-invasive background stripes. Besides the vintage version of the logo that hasn't changed much, the undisputed focus definitely goes on the ingredients. There are five open eggs in very large relief, corresponding to the amount used to produce as many kilograms of product. The pasta is not shown, either in the form of a drawing or a real image. There are no windows that reveal the contents, let alone any reference to the format of the pasta itself, since there was not much choice. The target audience were definitely mothers and housewives interested in authenticity and quality and that was enough to sell. Almost everything has changed with the evolution of production and consumption, but the trademark, if we exclude an update of the font, is always the same and that is what makes the difference.
Still on the theme of "the fabulous 60's" we find a a doll, symbol of femininity and independence that, apart from a small crisis, has passed the test of time unhurt: Barbie.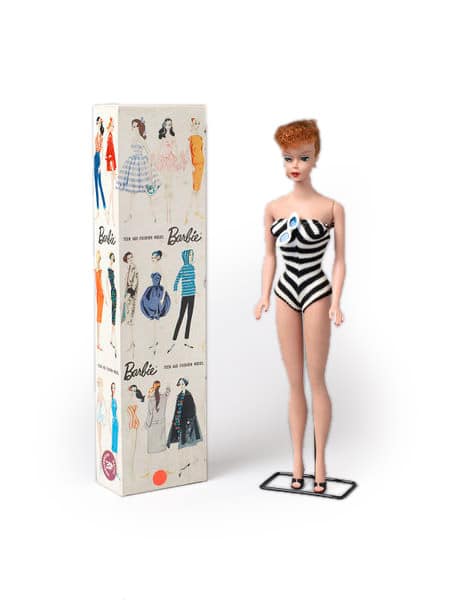 Witness to the profound changes to the standards of female beauty, it was sold in a very simple cardboard box, without windows, the artwork being made up of sketches for fashion designers. The unmistakable logo was imprinted in black on white and has remained almost unaltered. The shocking pink, Barbie's stylistic trademark, came later and her looks have changed radically from a 60's pin-up to a super skinny Californian blonde, in our opinion a little too thin compared to her generous curves, until she turned into a testimonial of times, embodying exceptional women personas such as Samantha Cristoforetti, to make a local example. The logo is once again the common denominator between past and present.
We can see you there drumming with your fingers… yes we know, we are missing a great classic: Coca-Cola! Ok, maybe it's a little obvious but it is a unique case in which the packaging (the imperious bottle in corrugated glass) has become a design object, more recognizable and recognized than the content itself. Here follows a small, perhaps unnecessary, gallery of subsequent prototypes.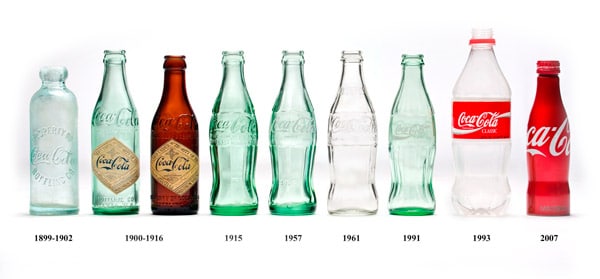 Speaking of famous glass containers, the mind immediately goes to the most beloved hazelnut cream of the globe: Nutella. This definitely brings the conversation up a notch, when it comes to the icons of packaging. Raise your hand if, in your own home or at grandma's, you have a whole set of glasses, simple or decorated, that contained the par-the-time gluttony. In this case packaging and product have merged into a whole. Miscellaneous illustrations and logos are redundant, it suffices to see a glass container with a white cap and the awareness is served.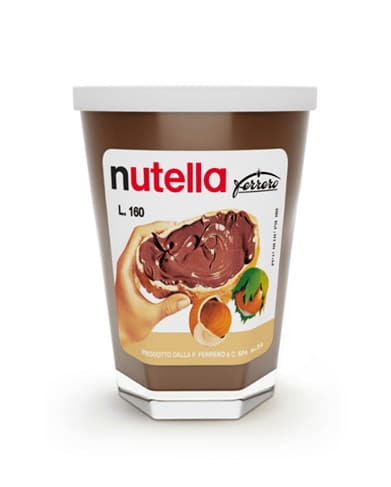 Let's switch subjects for just a second, to put our taste buds to rest. Another vintage packaging (from the unforgettable 80s) basically outclassed the product, by imposing a format with an unusual word: the keg by Dash. How could we forget the lady in the famous TV commercial holding it tight and not giving it away even in exchange for two from another brand? The lady had a point, because on classified websites these kegs acquired a certain value, since they became design icons.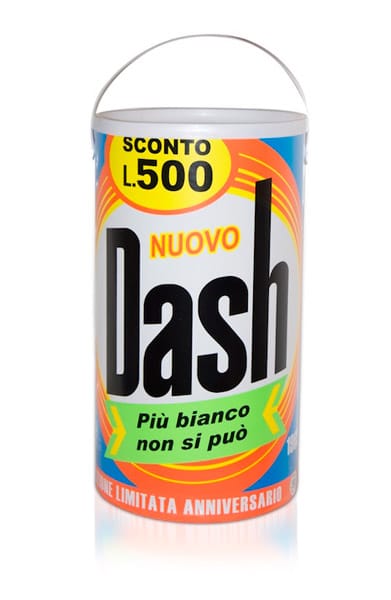 Another container that transcended its original role by remaining in homes for generations to come, after being re-purposed, is that of the Danish biscuits. A mouthful of delicious butter, with many geometric cholesterol-heavy shapes that were and are still packaged in blue tin containers. No one has ever thrown away these boxes, at least to our knowledge. There are many stories of greedy disappointed children though, who instead of the famous treats have found sewing threads and needles on the inside. A metaphor for the bitterness of life, in stark contrast to the brand, which most likely set entirely different expectations. Guys, we understand you, this is aggravated confectionery scam.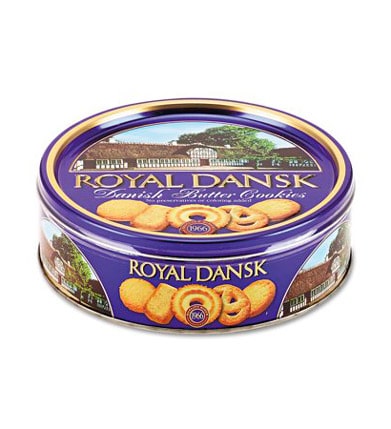 We want to wrap up by returning children, perhaps a little more than infants. Many of you will have joyfully drunk huge bottles of milk enriched with a sweet slime of Plasmon biscuits. Personally, we've been eating them for quite some time. What image comes to your mind? Well, let's see… a box with a predominant orange background and a pink ribbon, the Greek statue of a sculptor, Parthenon-style friezes and some climbing leaves. Did we get it right? This artwork goes back a long way, as you can see below in one the first specimens. It hasn't changed much, has it? If we had obscured the logo, you would have recognized the product anyway, so mission accomplished.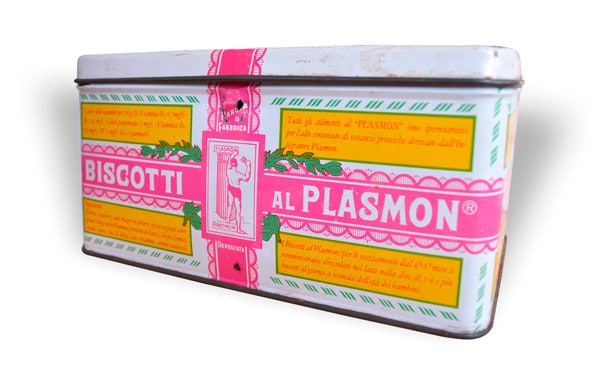 Our roundup of packaging icons ends here. Did we provide you with any tips, ideas to create a personalized packaging prototype? We surely hope so and we look forward to getting your artwork!