3BEE, the leading climate tech company in the protection of biodiversity through technology, uses the bee as a key bio-indicator by collecting and interpreting data through innovative proprietary systems to monitor the health of bees, pollinators and their connection to ecosystems.
Founded in 2017 by Riccardo and Niccolò, a biologist and an engineer, respectively, 3BEE, definitely knows how to connect nature with technology! 3BEE has embraced the mission to protect and preserve pollinating insects. Apoids, including bees, play a key role in the reproduction of many plant species: they are responsible for pollinating about 75 per cent of the world's crops. However, they are increasingly endangered by the consequences of climate change, habitat loss and other multiple threats. Without them, the balance of our planet's ecosystems, and consequently that of humans, would be severely compromised. And it is therefore important to contribute to their preservation.
What makes 3Bee unique is its technological approach. Since 2017, the climate tech has been continuously working with its partners to promote a positive change in the protection of biodiversity, trying to reverse the negative trend especially in recent years also due to anthropisation and climate change.
So how could it not choose Packly as the packaging supplier for Box 3Bee? We had a chat with those who are paving the way for a more sustainable future. Read on to find out more.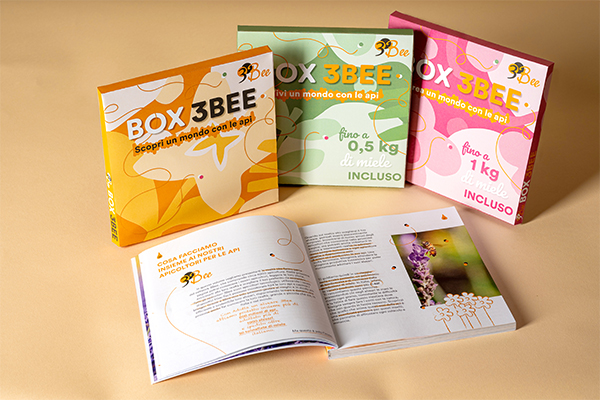 Tell us how the wonderful 3Bee project was born?
3Bee was born in 2017 from an idea of Niccolò Calandri and Riccardo Balzaretti, who have been friends since childhood. After a series of experiences abroad, Niccolò and Riccardo decided to return to Italy to found a company that would generate a concrete impact on the environment. Niccolò and Riccardo became passionate about bees and started to take care of the first beehives. Before embarking on this new project, Niccolò was working in quantum electronics and Riccardo in biology, both with a Phd obtained abroad. 3Bee was thus born from the combination of engineering and biological knowledge. On the one hand, Niccolò's engineering background enabled the development of the Hive-Tech technology. On the other hand, Riccardo's knowledge of biology enabled them to interpret and understand the data obtained from the monitoring of hives and bees.
What is 3Bee's mission?
Today, 3Bee is the leading climate tech company for the protection of biodiversity, connecting nature with technology. It is estimated that around 87.5% of the world's wild plants (we are talking about 308,000 species) depend on animal pollination for their reproduction. In addition, about 75% of food crops depend directly on the tireless pollination work of bees. This is also why, through the technology associated with 3Bee's regeneration initiatives, a concrete and monitorable impact is created with the aim of having concrete benefits on our Planet. Immediate and long-lasting. 3Bee's mission is precisely this. To develop, also thanks to the support of virtuous partners, through the creation of technologies and innovations in the environmental field, regeneration initiatives with a concrete and monitorable impact and a mapping of biodiversity in Europe.
How did you get to know Packly? What made Packly the ideal partner to meet Box 3Bee's packaging needs?
For the printing of the Box 3Bee boxes, we were looking for a fast and reliable provider. We found it in Packly. 3Bee is a scale up that works fast, with the aim of raising awareness of the important issue of biodiversity protection. Packly responded to our need by producing boxes that can be customised in terms of material and size, an essential aspect for us. In addition, Packly allows us to optimise certain phases of the work. We can see the mockups in real time – fundamental and convenient for our graphics department – and customer support is really efficient. Last but not least, Packly has chosen to be FSC certified.
What can be found inside a 3Bee Box, and who are the typical customers or occasions for purchasing them?
The 3Bee Boxes are gift boxes. They make it possible to protect biodiversity by adopting a biomonitoring hive and receiving, in respect of the bees and if provided for in the adoption plan, a small portion of the honey produced. The box set includes a 170-page educational book with interesting facts about pollinating insects and biodiversity, and allows you to protect up to 2,000 bees. With adoption, you also receive a personalised adoption certificate with the biodiversity impact generated and 4.0 hive monitoring directly from the 3Bee app, with updates from the biodiversity farmer, photos and videos of the bees.
Just over a year after its launch, the Box project has been a great success. With over 200,000 active users and over 200 stores affiliated to the 3Bee network! The success of the 3Bee Boxes lies in their originality. They are the perfect sustainable and educational gift, ideal for young and old and for a wide variety of occasions: from birthdays to Christmas, Mother's Day, Father's Day or even Communions and Confirmations. (They are also often chosen as favours for these occasions).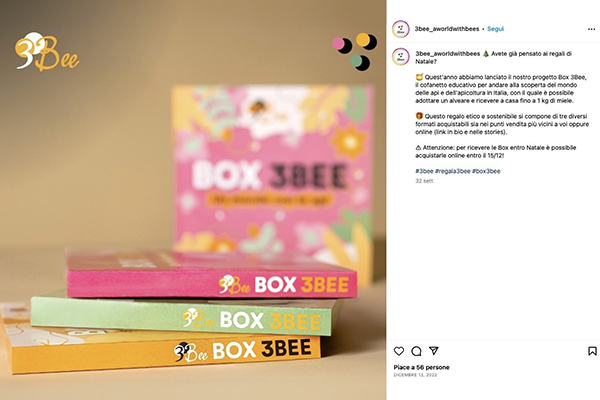 What is the social and educational impact resulting from the Box3Bee project?
With the Box project, 3Bee strengthens the link between technology, commitment to biodiversity and the local economy. With over 200 affiliated stores in just one year, the project highlights the fundamental role that small local businesses can play in monitoring and protecting biodiversity and raising awareness on this important issue. In fact, 3Bee chose to create a circuit of newsagents, tobacconists, stationers and other small businesses for the resale of the Box. The aim? Supporting small businesses and the local economy. It has thus created a community of biodiversity store ambassadors committed to this important cause. In addition, the biomonitoring hives adopted thanks to 3Bee and its Boxes are located within Biodiversity Oases. These are urban and agroforestry protection areas with refuges for pollinators and native flora. Places certified by technology and with a traceable impact, cared for by 3Bee's biodiversity farmers.
Public bodies and companies can also join the project. Thus contributing to the care and growth of the oases and taking an active role in protecting biodiversity.
What are the future goals of 3Bee?
At 3Bee, we set ambitious goals for the protection of biodiversity every day. Among our main goals is to go from 123 to 10,000 Biodiversity Oases created within two years. A goal we can achieve. Thanks to the commitment and contribution of our biodiversity farmers. Mainly farms competent in the care and management of nectariferous forests. But also research partners and companies that want to take an active role in preserving biodiversity. Looking to the future of the Boxes, 3Bee will soon launch a new edition. This will allow the adoption of nectariferous trees, further expanding the impact of the project. The aim is to increasingly involve the community of store ambassadors of biodiversity, transforming the 'adopt a 3Bee nectariferous tree' project. Currently it is only digital. We would like it to become a physical product.
Protecting bees and pollinator insects is essential for preserving the biodiversity of our planet. What is a small gesture or habit that we should all adopt to contribute to their protection?
Among the small gestures and habits is certainly that of cultivating a passion for greenery. Even if it is not always possible, especially for city dwellers. Nectariferous plants and flowers are a valuable resource for pollinating insects and can therefore make our gardens an ideal habitat for them. At the same time, we can provide a small water source or install bug hotels. But also pollinator shelters in gardens, balconies or terraces with more space available.
Are there any curiosities about the packaging design of the boxes created on Packly?
When it comes to the design of the 3Bee Boxes, we have always tried to exploit all the surfaces of the pack as much as possible. We set ourselves the goal of enhancing it and making sure that it was not only aesthetically pleasing, but also reusable and durable. Like 3Bee's other projects, the Boxes also have a purpose of spreading an important environmental message. The packaging is an integral part of the experience. A small curiosity. When we were guests at Muschio Selvaggio, we also received compliments from Federico – aka Fedez. He received one of our Boxes as a gift.
Conclusion
Through the intelligent use of technology, 3BEE is proving that innovative solutions play a key role in the environment. Through their regeneration projects, 3BEE is actively contributing to the protection of pollinating insects and biodiversity. We hope that 3BEE's success will inspire other companies to get involved in preserving our planet's biodiversity and protecting the delicate balance of ecosystems. We are proud to make our contribution, and are happy to work alongside 3BEE on their Box packaging. An initiative with an important social and environmental impact.