With the Advent calendar, every day is perfect for unboxing. Why should businesses pay special attention to it?
Advent Calendar: The Anticipation Packaging

1, 2, 3, 24 boxes… or 31, there's no fixed rule, especially lately! We're talking about the Advent calendar, the captivating tradition that accompanies us in the anticipation of Christmas with small daily surprises and joys. Each day, gifts and surprises turn the Christmas countdown into an exciting experience, becoming a must-have in many homes worldwide. In this simple calendar, it's not just the holiday magic that resides. That's why businesses go all-in at the end of the year on this special countdown. Let's find out why!
Numbers from the Advent calendar
Advent calendars are a growing trend in the packaging and retail industry. Sales start in September and peak in December, doubling in terms of units sold. For several years, the packaging world has seen a significant increase in sales opportunities during the Christmas season, and the Advent calendar has played a key role in this trend. As early as 2013, beauty companies like Benefit successfully introduced their Advent calendars in England and overseas. Over time, many other cosmetic industry companies have followed this trend, turning a centuries-old tradition into a powerful marketing tool. According to a survey conducted by eBay, 30% of brands reported a significant increase in purchases from October 31st to December 20th.
In addition to the extraordinary sales growth, Advent calendars have become an emotional vehicle. On social media platforms like TikTok, they have become popular for sharing daily unboxings and creating connections among users. In recent years, #adventcalendar has been one of the most searched and used hashtags. It's not just about receiving gifts; it's about sharing emotions, making Advent calendars an essential part of the sharing culture.
Why should businesses create custom packaging?
Packaging is a fundamental part of the success of Advent calendars, and its role cannot be underestimated. Why should businesses pay special attention to Advent calendar packaging?
It's a real business card for your company, introducing the brand and products in a creative and exclusive way, as it's typically a seasonal packaging. As a stage and prelude to emotions and surprises, packaging is the means through which the brand emotionally connects with consumers and ensures the content's safety.
Packly's strategic idea for the Advent calendar
Does creating an Advent calendar take time and technical knowledge? We've got you covered!
At Packly, we always strive to stay one step ahead, anticipating your needs and providing the right resources to bring ingenious ideas to life in a simple and effective way. Our creative minds have worked diligently, just like Santa's little elves, to offer you an option that will make your brand stand out during the holiday season while delivering emotions to everyone who receives it.
Leave the technical part to us; you bring the creativity!
Our version is ready to be customized and used as you prefer. The proposal you will find below is precise to the hundredth of a millimeter, making Advent calendar creation a breeze.
Let me give you an example: if you're a cosmetic company and want to find a unique way to let everyone try your products—perfect!
What are you waiting for to make yourself known? Optimize your time and create a unique calendar that showcases your brand and what it can do!
Our project offers several significant advantages:
Firstly, the numbers are visibly printed on the external windows of the calendar. This means you can create a single design for each calendar. For instance, if you need to produce 200 calendars, you'll need to create 200 main boxes, 200 personalized inserts, and 200 containers multiplied by the 24 days.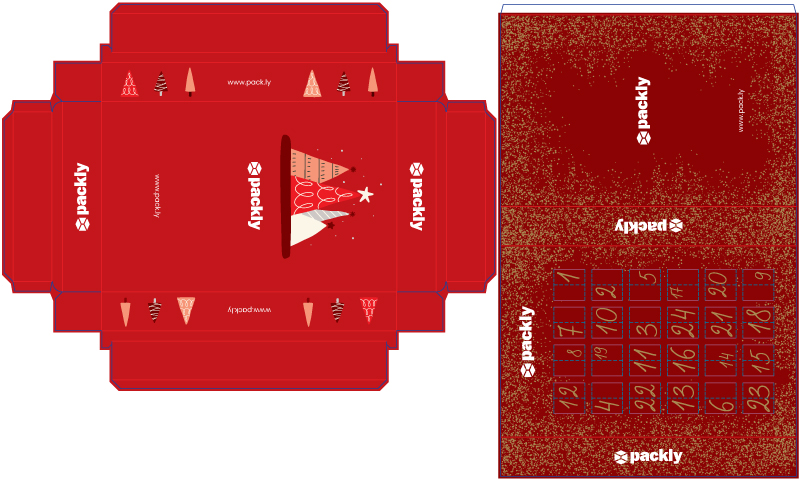 This allows you to save considerable time and effort, making the process much more efficient.
But there's more!
The internal containers of the calendars are designed to fit perfectly into the dimensions of the external windows. This provides a unique opportunity to customize the external appearance of the calendars as you wish. You could opt for a personalized message on the outside. Furthermore, the interior space of the calendars is strategic not only in terms of customization but also from a cost perspective, ensuring an affordable and advantageous cost.
Packly's Advent calendar technical specifications
Our Advent calendar is a combination of three customizable models available in Packly's library:
This is the main packaging. It has been customized with exclusive graphics and features gold embellishments, along with numbers indicating the windows to open each day. The windows themselves are made with custom cuts, adding the typical Advent calendar touch.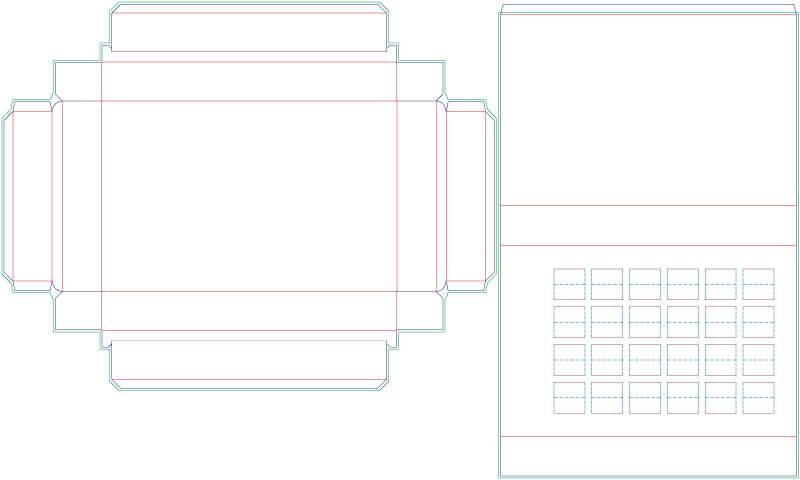 These cells are designed to accommodate the containers that will hold your surprises.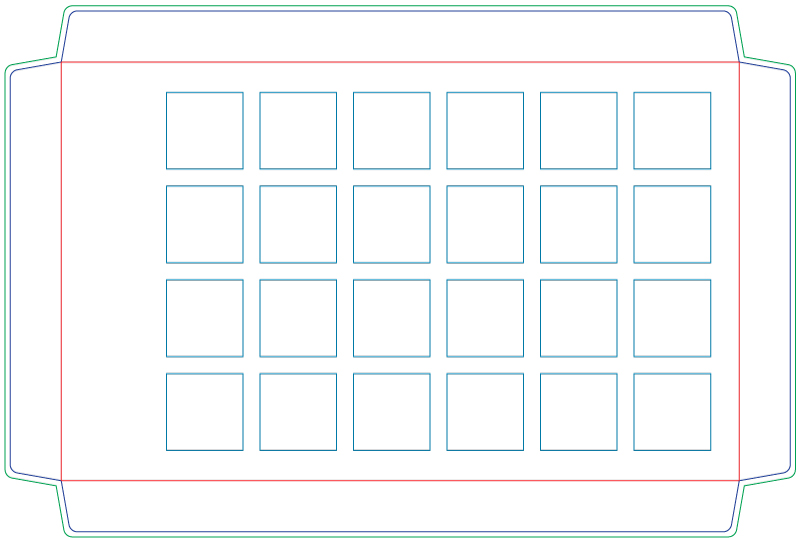 The containers are specially designed to fit the dimensions of the external windows, ensuring a uniform and appealing appearance. In addition to offering an attractive aesthetic, they are highly functional and secure, making them ideal for protecting your surprises. For example, if you are the aforementioned cosmetic company and want to offer exclusive samples to your customers, our containers will ensure safety and perfect condition until the moment of opening.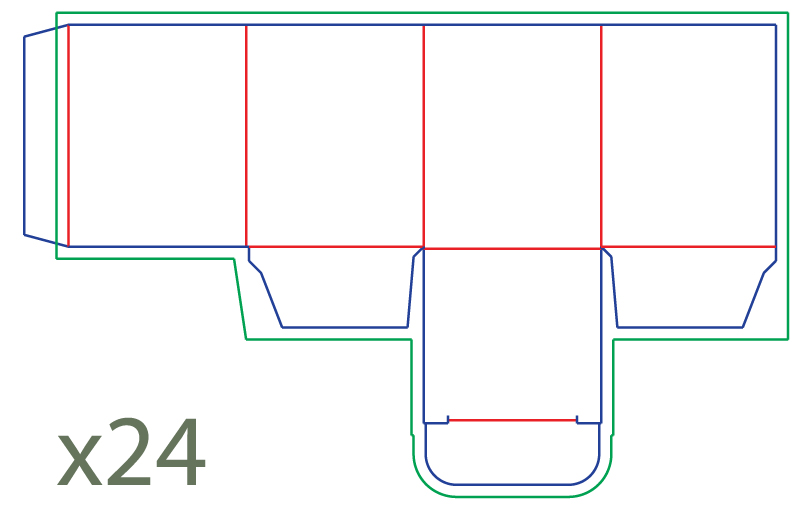 Conclusions
The success of the Advent calendar is also thanks to its packaging. The design and graphics capture attention and anticipate the joy of hidden surprises. Packly simplifies your life with our Advent calendar, ready to be customized and used as you prefer. Choose creativity, with no minimum order requirements. Give surprises and joy with a "paper matryoshka" that turns every day into an exciting adventure.
Below, you can find a video tutorial on assembly: