Is the panettone box really important? The Christmas season evokes traditions, and among the most popular is this fantastic dessert: panettone. A symbol of Italian festivities, it not only delights the palate but also enchants with its packaging, a vehicle for a unique identity.
Panettone box: the tasty architecture of the 'Pan di Toni'
Domes are for artists. However, there is no need to go to Rome or Florence; just look at our tables! The shape of the panettone rises like a majestic culinary dome: an imposing sweet architecture, embracing the sweetness of its layers, enclosing flavours and aromas in a single enveloping and welcoming structure.
Panettone is said to have originated in Milan during the medieval period. Legend has it that a young confectioner named Toni created this innovative cake during the reign of Ludovico il Moro in the 15th century. Using simple ingredients such as flour, eggs, butter, sugar and dried fruit, he created a tall, fluffy cake that was much loved and soon became popular. The name 'panettone' may well derive from the name Toni, 'Pan de Toni' (i.e. Toni's bread).
Today it has become an icon of the festive season, appreciated in many variations and loved all over the world. Its recipe has been refined over the centuries, and many variations have been born: from the classic with candied fruit and sultanas to more modern versions with chocolate fillings or special creams.
Handmade or manufactured?
The Christmas market of panettone and pandoro is an economic pillar, with a value exceeding 700 million euros in turnover and a production of almost 100,000 tonnes of Christmas delicacies, according to Unionfood estimates. Research conducted by Nielsen for the company Csm Bakery and the Confartigianato Imprese Sardegna Studies Office confirm the dominance of artisan panettone, which accounts for over 50% of the sector. Forecasts indicate the sale of over 50 million pieces, with a significant increase of 19.5% compared to the previous year.
In 1953, the switch from Mottino to Buondì marked a pivotal moment in the industrial history of panettone, with Bauli excelling among the best products in Altroconsumo's 2022 ranking.
The importance of the panettone box in this culinary reality is vital, as it must keep the essence of 'Made in Italy' authentic during the festive season.
Tilby's Drink & Food Observatory, in fact, emphasises the respect of culinary traditions during the December celebrations, with panettone, pandoro and other classic desserts on the podium of Italians' preferences.
Panettone box packaging: a frame for the excellence
Panettone is bought in a variety of ways: from the trusted bakery, to supermarkets, to online shopping via specific sites or food delivery apps. This diversification in the sales channel is synonymous with a market that is now always active. Not limited to the Christmas season; the panettone market is now a panorama that develops without seasonal dependence. Already as early as October, bakeries start accepting the first bookings, maintaining high sales activity until the first months of the new year.
In recent years, as in many other sectors, a much more original and unusual design has also begun to spread for panettone packaging. This is because there are many producers putting handmade panettone cakes on the market who need to make themselves recognisable and stand out.
In fact, panettone packaging is able to emphasise the preciousness of the product and its workmanship, recalling through colours and shapes, the value of authenticity and genuineness typical of handmade products. The care and elegance of the packaging underlines the attention to detail that, starting from the raw material chosen, invests the entire production process of the artisan panettone, right up to its packaging.
Traditional gifts with customised panettone boxes
Christmas, with its magic, offers a unique opportunity to express gratitude and appreciation towards colleagues, employees and customers through special, personalised corporate gifts. Panettone and pandoro, timeless symbols of the festivities, embody the very essence of this period and become long-awaited and beloved gifts.
However, transforming these gifts into something even more extraordinary is possible through the exclusive presentation and customisation of panettone, creating personalised and distinctive packaging, such as limited editions, for example.
In this context, Packly, knowing the importance of customised panettone packaging, has come up with ad hoc solutions.

The panettone packaging designed by Packly
Packly, with an eye on the needs of companies in the confectionery industry and those who want to make this traditional dessert a unique corporate gift, has designed three packaging models for panettone, based on the most common and popular formats in the industry.
Our models are to be considered as an initial inspiration; the real magic happens when they are customised. Each panettone has its own unique story. With Packly you have the freedom to tell it "with one's personal touch", by incorporating a distinctive design. Ideas come to life with special ennoblements and finishes, details that are modelled in a real-time 3D preview, showing the final product.
Bonus tip: you can insert your company logo, turning the packaging into an authentic communication tool.
This customisation not only adds value to the panettone as a corporate gift, but also allows a unique and recognisable identity to be conveyed to the sweet product.
Technical specifications of Packly's panettone boxes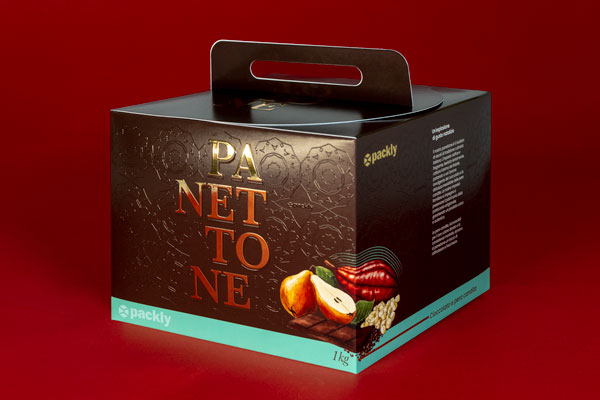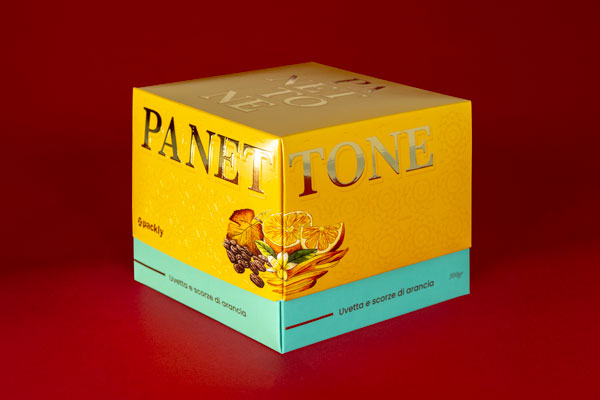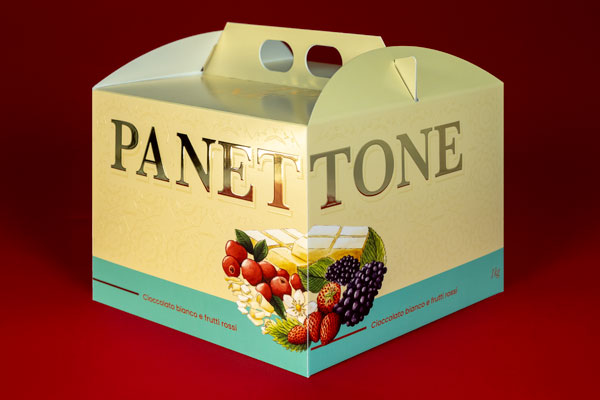 BOX: Top box – with handle, for 750g – 1kg panettone
MATERIAL: E-flute + White Top
INTERNAL DIMENSIONS: 220 mm x 220 mm x 170 mm
Conclusions
Panettone is not just a Christmas dessert. It is a tale of history, quality and uniqueness, wrapped in packaging that expresses the authentic value of the brand. Click here now, and choose panettone packaging designed to suit the needs of each company, to showcase a unique piece of Italian heritage.