It's beginning to feel like Christmas, the magical time of the year. The most impatient will want to kill the waiting time with the 2022 advent calendar. Let's review some historical curiosities and the most popular and peculiar versions.
We are almost there! Can you feel the magic of Christmas? Songs echo in the air; everything turns red, green, and gold. How to mark the days until December 25th? For young and old, the countdown takes place through the 2022 Advent Calendar: the most awaited unboxing.
What is it? Every year it becomes increasingly trendy, and more and more brands get involved in its creation. A calendar is a simple tool that helps people understand the spirit of waiting and the authentic meaning of this period. You could see it as patience training that allows you to enjoy the holidays. You get twenty-four small gifts to unpack from December 1st to 24th with sweets, cosmetics, jewels, or discount vouchers. Others contain motivational or practical phrases to implement until Christmas arrives.
For brands and companies, it has become a way to present their products, launch a catalog, or set up original limited editions—another good marketing tool. Furthermore, studies have even shown a surge in sales for products featured in an advent calendar.
But what are its origins? Let's take a few steps back.
Origins of the Advent
The advent calendar originates between the end of the 1800s and the beginning of the 1900s in Northern Europe. The idea came from little Gerhard Lang's mother who, tired of being asked, "when is Christmas coming?", prepared 24 delicious spiced sweets: one for each day until Christmas. She put them in bags that Gerhard had to unwrap daily to mark the waiting time.
Thus, Gerhard Lang created the very first Advent calendar when he was growing up. A paper board with 24 windows to insert sweets and chocolate.
Before Lang's arrival, a similar tradition already existed in 19th-century German homes. Children used to draw 24 chalk lines which they erased from day to day until December 25th. Therefore, they welcomed the idea of ​​a calendar with 24 small packets to unwrap. In 1903 the first one sold: A cardboard with 24 squares and a set of 24 images to cut out and glue. In 1920, the first model with windows to open came about. Later, in 1925, the first calendars containing chocolates appeared.
Other states then introduced them into their traditions. For example, in Italy, the first calendar was made with fabric and put on sale by the Galli pastry shop in Milan.
Curiosities from around the world
Over time, every country has adopted a tradition regarding the Advent calendar.
Interestingly, in Scandinavia, they have a whole other purpose. The calendars are behind 24-episode television programs that entertain and raise money for charity.
Not to mention Bolzano, where there has been a particular reinterpretation of the calendar. There's a building in the central city square where a window opens each day till Advent, just like the boxes in a calendar.
In Denmark, the "Julekalender" is an animated series of 24 episodes to keep children company.
In the United States, instead, there are only 12 boxes on the calendar. The reason behind this is that the countdown to the days of Advent begins on December 12th.
The most expensive calendar is from Tiffany's, which presented a collection of 24 gold and silver jewels with diamonds for a base price of 100,000 euros.
Advent Calendar 2022: must-haves
1. American Uncle's Advent Calendar
The very famous ′′American Uncle′′ doesn't miss an opportunity to sell his sweet and savory snacks ahead of Advent. A calendar with a simple shape, each box represents a piece of a miniature Christmas village. It consists of an external corrugated cardboard case and tuck-end boxes inside.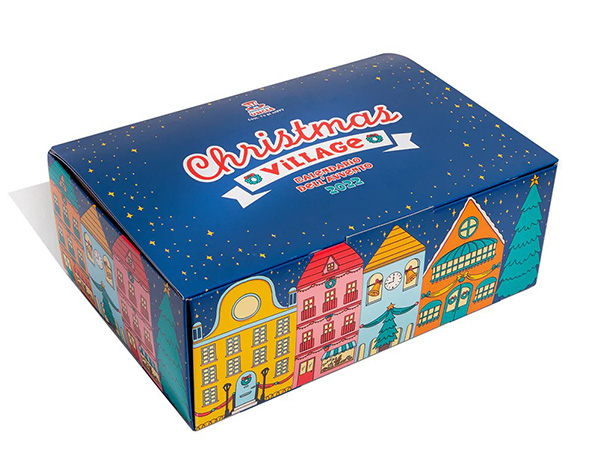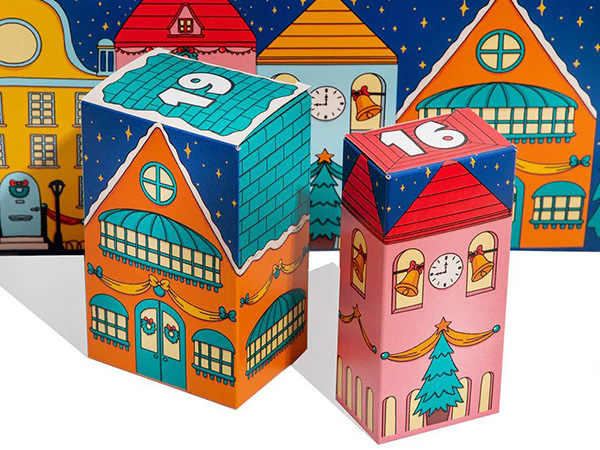 2. The Grinch for Makeup Revolution
Makeup Revolution wanted to reinterpret the well-established idea of the Grinch. They've turned it into an Advent calendar full of tricks. The world of cosmetics is particularly suited for creating calendars where small samples of each product line find their perfect place. In this case, the calendar revolves around a lid-and-bottom box and containers of different sizes.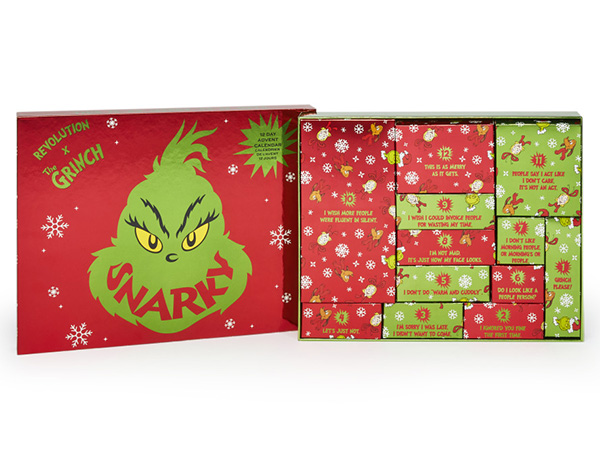 3. Ambrosiae Advent Calendar: Bio and gluten-free
Who said that calendars should only contain caloric sweets or jewelry? This year the calendar for Ambrosiae is light, ideal for those who want to stay healthy. Getting ready for the holidays is possible. Inside are limited editions and many treats for breakfast or snacks until Christmas morning. The calendar comprises a self-assembling microwave tray and smaller boxes. Original, right?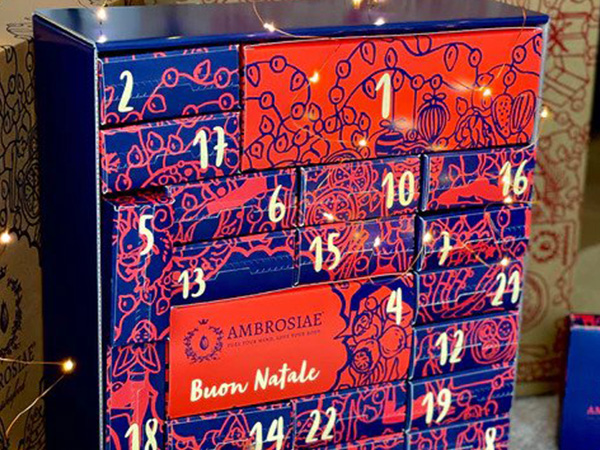 4. Pregnancy Advent Calendar
What better comparison for the time of waiting than that of pregnancy? Vortageins, the German brand of baby products, offers a 2022 pregnancy advent calendar. Twenty-four small gifts in a set for the arrival of the newborn. In addition, the packs also contain practical advice or funny phrases for parents-to-be. From a technical point of view, the calendar consists of a corrugated cardboard tray, a cardboard lid, and inner boxes of different sizes.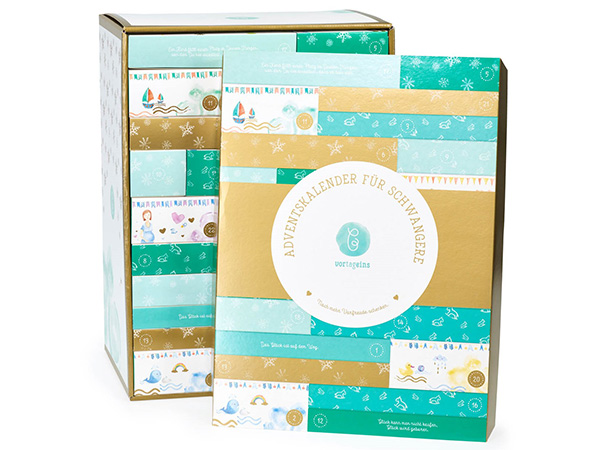 5. The Harry Potter Advent Calendar
For this Christmas, Harry Potter fans will also have a calendar dedicated to them. It consists of a linear cardboard box with cutouts for the windows.
It's about 24 packages to unwrap, all themed: accessories, stationery, and gifts to make Advent a magical time. After all, "the wand chooses the wizard!" Will you be the chosen ones?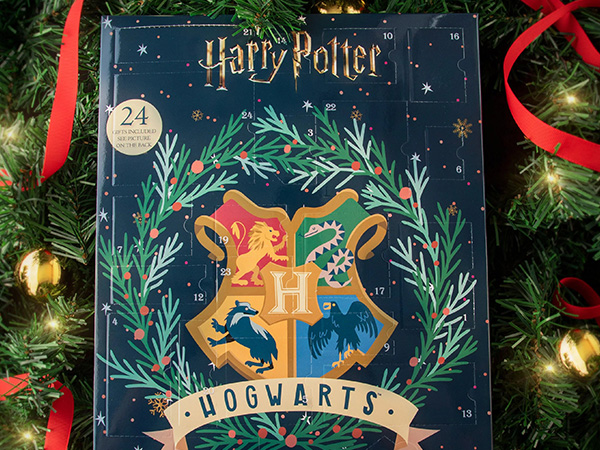 Conclusions
Unboxing is always exciting, even more so if it lasts 24 days. The contents and ideas of the 2022 Advent calendar are the most diverse; you have plenty of choices. If you are in business, you should give it a try. A tool like this allows you to acquire new customers, retain them, promote new products, or launch limited editions. Are you ready to make yours? Try Packly and start the holiday countdown.