In a small town perched on the Sannio's uplands, many small companies daily deal with the manufacturing of tasty nougat bars covered by chocolate: the croccantini. We are in San Marco dei Cavoti, a town well-known for its production of nougats and croccantini. Products that are so important for the local tradition that the municipality and the citizens decided to dedicate them a real festival: "Festa del Torrone e del Croccantino".
Here Autore laboratory was born. It was founded by Antonio Autore, an entrepreneur from San Marco that decided to valorise and re-new a historical product such as the croccantino to bring it to excellence. Antonio is an interpreter of the past and, at the same time, an innovator: in his hands the croccantino found a new life.
His challenge aimed to the modernization of an original product while preserving its craft dimension. In fact, in his creations the traditional processes found a valid ally in innovation and their sinergy allowed the production of renewed products, both in appearance and taste, but always linked to their origins.
A classic product declined in different flavors and packed into very attractive boxes. In fact, in addition to their excellent quality, the croccantini, and all Autore products, boast an excellent packaging carefully designed to protect the content and enhance the visual identity of the brand. Autore also dared innovative graphic, color and packaging design choices, far from traditional schemes.
To make it short, Autore chose to sell a classic product with a modern and dynamic approach. In this way he created a breaking brand that constantly aims to rewrite the history of croccantino.
Autore packagings
Pastel soft colors differentiate the wide range of flavours. Chromatic delicacy, geometric design and essential style are in perfect harmony with the refinement of the product. This is the way how Autore croccantini introduce themselves, a fragrant mix of sweet and bitter that is conquering the most refined palates, from taste to sight.
Tin boxes, transparent cubes, carved sleeves and glass jars: each article has its bespoke "author packaging". Attractive boxes that stand out on the shelves. Innovative and detailed packagings that are up to the craft products inside them. The classy communicative choices differentiate the brand from the other players while the beauty of the packagings increases the sales.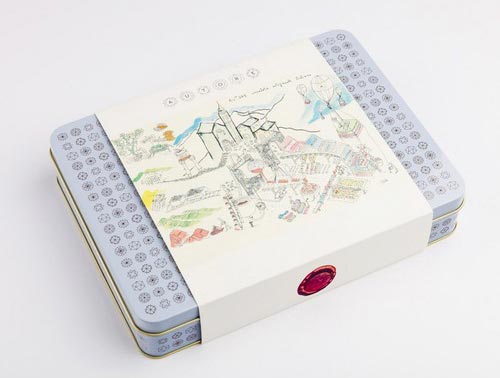 Cannot wait to taste all the delicious products of the Sammarchese tradition? Don't miss the next edition of the "Festa del Torrone e del Croccantino" then! It will be held in December. Meanwhile, delight your eyes with our collection of Autore packagings.