Barbie's packaging is a representation of a pink and customised world. An icon for over 60 years, since her introduction the perfect blonde doll has captured the imagination of millions of little girls worldwide, becoming an icon of fashion, lifestyle and female empowerment. In addition to her slim figure and fashionable clothes, one element that has contributed to Barbie's timeless success is her iconic packaging. On the occasion of the cinema release of the live action 'Barbie', we have prepared a surprise for you… Pink a gogo, pop icons… And no, not a spoiler about the film, we promise!
Barbie's packaging has become a trademark, an instantly recognisable symbol representing the entire experience of owning a Barbie doll. The box, capable of giving anyone 15 minutes of popularity, immediately adapted to whatever role it was meant to contain, and had a huge impact on toy culture and the perception of the iconic blonde doll born in California. From the earliest, simple and recognisable models, to the more innovative ones up to the man-sized cardboard boxes, the pink box has been a parallel and connected protagonist of the Mattel house toy.
But first a bit of history!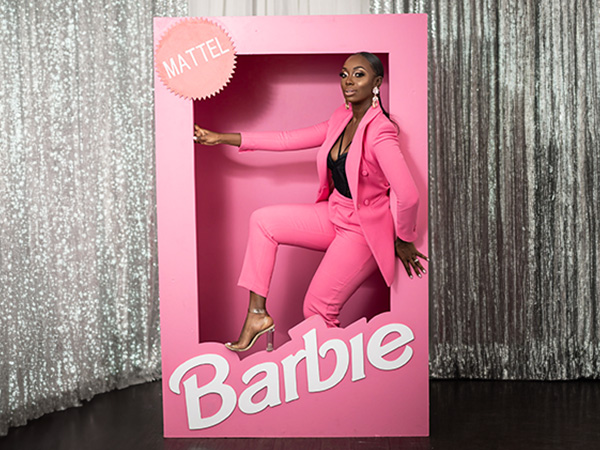 March ninth, nineteen fifty-nine: happy b-day Barbie!
The first Barbie was introduced onto the market on March 9th, 1959. The doll has known the formula of eternal youth, remaining a staple in childhood (and beyond) from generation to generation for 64 years. Do you know her story?
Barbara Millicent Roberts, better known as Barbie, was named because the daughter of Ruth and Elliot Handler (co-founder of Mattel). Barbara used to play with dolls made of paper. Ruth so decided to propose and create a line of adult-looking dolls, as the only dolls present were baby dolls. The first Barbie doll debuted in shops on March 9th, 1959: she wore a zebra-striped swimming costume, pale skin and black hair tied back in a long tail. She fully embodied the 'fabulous 60s' revolution, proving that a woman could be feminine and independent, and could decide to be whoever she wanted to be.
The Barbie doll is known for always being perfect, glamorous, and for years represented the changes in society. Her chameleon-like nature made the toy a pioneer of mass communication, creating a universe where everything became possible. From pioneer to fashion blogger, from pin-up to skinny blonde, Barbie went through new media, always encouraging inclusivity and freedom.
The iconic packaging
Barbie's packaging has become an integral part of her recognition and branding. Usually, the packaging is rectangular and made of cardboard, with a transparent window allowing the doll to be seen inside. The window box, of the simplest kind, featured only the Barbie was written in a font reminiscent of a child's handwriting. The font, studied in detail, is meant to represent the carefree insouciance of childhood. While the pink colour, which everyone knows and identifies as 'Barbie pink' is actually a shade called 'Watermelon Pink' (sorry if I destroyed a myth with the actual name of the shade…). The window on the front, however, was placed there to show what is actually inside and not what might be.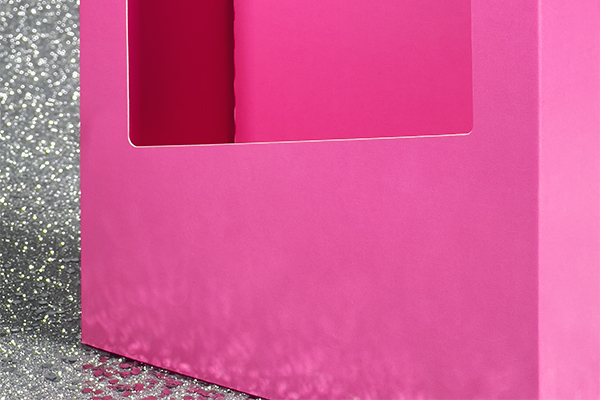 Barbie's packaging has evolved over the years, but some key features have remained unchanged. Opening a Barbie packaging means entering a world where creativity is unleashed and stories come to life. I would say that the WOW effect is 100% guaranteed! The image of smiling, impeccably dressed Barbie, surrounded by dreamy clothes and glittering accessories, is a true ode to beauty. Barbie's packaging captures the essence of elegant and glamorous femininity, inspiring little girls to dream big and believe in the importance of expressing their unique personalities. This aspect of the packaging has helped position Barbie as a doll that offers a wide range of possibilities for play and self-expression.
Barbie's packaging: limited editions
Barbie packaging has also played an important role in making Barbie dolls desirable collectors' items for many fans. Some special editions of Barbie were presented in unique and luxurious packaging, often accompanied by exclusive accessories or fine design details. These packages helped create a sense of value and sophistication around Barbie dolls, attracting both collectors and design lovers. Packaging thus becomes an element of added value, transforming each purchase into a true work of art to be proudly displayed.
How many of us have wished for 'Barbie Holiday' at least once? Her dreamy long, loose-fitting evening dress, the attention to detail and a box that embellished and guarded the doll, made its way into my heart and I'm sure yours too!
Tell me what colour you are, I'll tell you who you are
Barbie's packaging has become a cultural icon in its own right. The packaging has often been mentioned in art exhibitions, design publications and documentaries on the history of the toy. The image of Barbie in its packaging has represented the quintessence of elegance and the female ideal for many generations. Although Barbie's appearance has been the subject of debates on unrealistic beauty standards, the packaging has helped create a positive and attractive image that has captivated the public for decades. It has been proven that one can recognise the iconic packaging by its shape and colour alone.
Packly's surprise
The designers at Packly thought they'd ride the wave (we're still in California Dreamin') and create a Barbie-inspired box… Did you get that? We wanted to play an active role, because if packaging is iconic, who are we not to recreate a real icon that doesn't need logos to be recognisable?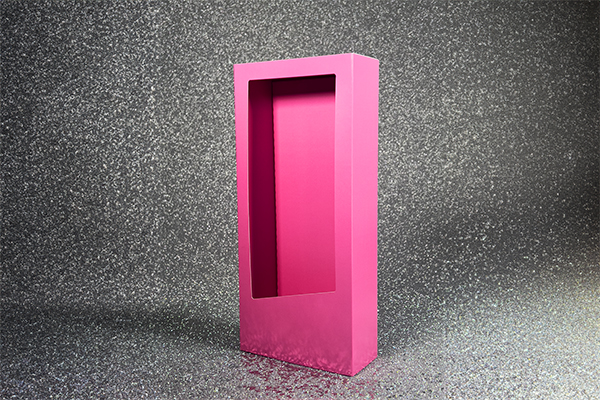 So here we present you our version, glamorous, glittered and unadulterated. Barbie's packaging has influenced the culture of us all and will continue to do so, conveying an image of beauty, style and endless possibilities. Despite the passing of the years, Barbie's packaging continues to fascinate and inspire new generations, proving that the impact of a well-packaged image can be truly enduring.
Conclusions
In the meantime, we prepare the popcorn, because we can't wait to go to the cinema and see the film. Dreaming costs nothing, after all! If you want to relive a sweet childhood dream, you can buy a Barbie… Or have fun creating a box that reminds you of iconic packaging from history!