A new year is now begun and, as in the last year, we are ready to meet you at some fair. Where? We will tell you it as soon as possible! Meanwhile, in this article, you can find a useful list of some of the European packaging fairs you might visit at least once in life 🙂
The main European packaging fairs
Italy
Let's start from Italy. Among the different packaging fairs, small and big, it is important to talk about Cosmopack, Ipack-Ima and Cibus Tec.
Cosmopack
Cosmopack is one of the biggest fairs dedicated to the cosmetic production chain. The exhibition takes place inside Cosmoprof Worldwide Bologna and it is strongly characterized by its creative contents and innovative products and formulas that always make it one-of-a-kind.
Its peculiarity? Cosmopack exhibitors may find their first potential customers directly among the Cosmoprof ones. A winning synergy that enhances networking and sales opportunities among participants.
The exhibition sectors cover all the areas of the cosmetic industry: nail, make-up, skin care, personal care and so on.
Cosmopack takes place in Bologna Exhibition Centre from 15th to 18th March, 2018.
Ipack-Ima
Ipack-Ima is a triennial fair specializing in food and non-food processing and packaging. The 24th edition is part of "The Innovation Alliance", an event consisting of five synergic exhibitions, leaders in their reference industry: Plast, Ipack-Ima, Meat-Tech, Print4All and Intralogistica Italia.
Exhibiting companies will be divided and classified depending on their product offer, in order to be included in one of the trade show sector: Food, Fresh & Convenience; Confectionary; Beverage; Pasta, Bakery & Milling; Industrial & Durable Goods; Health & Personal Care; Chemicals Industrial & Home, Fashion & Luxury. The different categories have been chosen starting from the main packaging industries.
The fair will be held at FieraMilano Rho, from 29th of May to the 1st of June. Don't miss this chance…or you should wait for the next three years!
Cibus Tec
Exhibition dedicated to food processing and packaging. Cibus Tec is one of the most innovative manifestation of food technology for all the sectors of the food and beverage industry. The event, together with Anuga FoodTec, is the reference point for food technological innovation.
All components of the food industry find their own space at the show: from ingredients to processing technologies, from packaging to logistics.
If you are looking for solutions in this file, mark the appointment on your agenda. When? From 22nd to 25th October, 2019. Where? Fiere di Parma.
---
Germany
Among the many packaging fairs, Germany hosts three important events: Interpack, Anuga FoodTec and FachPack.
Interpack
Interpack is the key event for all packaging professionals in the world. An exhibition entirely dedicated to the packaging world, in which all the companies active in the food, beverages, pharmaceuticals, cosmetics, non-food and industrial commodities industires can find their expression.
Packaging is here present in all its forms: from production plants to control systems, from printing to packaging and logistics. A forge of bespoke ideas and solutions for all industrial sectors.
Interpack is the perfect place to find the right solution to any packaging need. The fair takes place at the Düsseldorf Exhibition Centre every three years. Next appointment? From 7th to 13th of May 2020, you still have time to plan your visit!
Anuga FoodTec
Partner of Cibus Tec, Anuga FoodTec also is entirely dedicated to the food industry. The exhibition includes the global offer for the production, filling and packaging of food and beverages.
Attendees can find all the solutions of this sector. The exhibition will be held in Koelnmesse, Cologne, from 20th to 23th March 2018.
FachPack
FachPack's world showcases everything concerning the entire packaging process chain. The right place to find solutions of any kind.
FachPack is the complete selection of packaging solutions, especially for packaging-intensive sectors: food and beverage, pharmaceuticals and medical technology, cosmetics, chemicals, automotive, consumer, and industrial products.
Its new up-to-date look wants to reflect the innovative capacity and future sustainability of the European packaging industry. The event takes place at the Nuremberg Exhibition Center, from 25th to 27th September 2018.
---
France
Let's land in France for two well-known packaging fairs: All4Pack Paris and Pack&Gift.
All4Pack Paris
All4Pack, 4 like the 4 sectors of the exhibition: packaging, processing, printing and handling. The product sectors? Food packaging, industrial packaging, luxury packaging, pharmaceutical packaging, liquid and beverage packaging and beauty packaging.
The global offer for packaging design industry. When? From 26th to 29th November 2018, Paris Nord Villepinte.
Pack&Gift
Pack&Gift is a fair dedicated to promotional packaging and merchandising. At its 10th edition it is reconfirmed as the reference event for the whole world of creative and celebratory packaging, visual communication and seasonal customization, promotions and special occasions.
A multi-market product offer ranging from the cosmetic sector to food & beverage, from large retailers to the fashion and leisure sector.
The small fair has about 3,000 highly qualified visitors. This year it will be held on 13th and 14th June in Paris, Porte de Versailles.
---
Principality of Monaco
In the Principality of Monaco takes place the European edition of Luxe Pack.
Luxe Pack
Luxe Pack is a niche trade show exclusively dedicated to luxury packaging. A meeting place for specialists that want to experience all the aspects of excellent packaging.
Raw materials, design, finishings and production processes specific for the luxury chain. Innovative and high range solutions designed for cosmetics, perfumes, spirits, cigarettes, fashion accessories, jewelry and gourmet foods.
Luxe Pack is an excellent opportunity to dive into the world of luxury packaging and get out of it enriched. Take note: 1-2-3 October 2018, at the Grimaldi Forum in Monaco.
---
England
Last, but not least, is England with two packaging fairs: Packaging Luxury and Packaging Innovations. Two different exhibitions held in the same place: Olympia London.
Packaging Luxury
Packaging Luxury, like Luxe Pack, is focused on luxury packaging. Being the only manifestation of its kind in England, Packaging Luxury draws to itself all the high-end brands and retailers, which are always looking for innovative solutions to create premium packaging that can give more value to their products.
Prestige and customization are the keywords of the exhibition. The exhibitors present boast a portfolio of clients such as Harrods, Diageo, Bulgari and Coty.
Packaging Innovations
170 packaging suppliers join Packaging Innovations to present their latest innovative solutions. An excellent springboard for thousands of new products that are available to visitors in absolute preview.
The event also offers the opportunity to attend different workshops focused on various intervention sectors. Among the speakers confirmed for the annual edition we may find: Coty, Carlsberg and Foodservice Packaging Association.
Remember: Packaging Innovations don't takes place only in London but also in Birmingham and in other European and Extra-European countries. For more information visit Easyfairs.
What are you waiting for? On the 12th and 13th of September 2018 you might visit two exhibitions in one fell swoop! If I were you, I would do a little thought.
---
Are you afraid of forgetting something? Mark all the appointments in your agenda and save our calendar! If you would like to suggest some other packaging fairs, comment on our article 🙂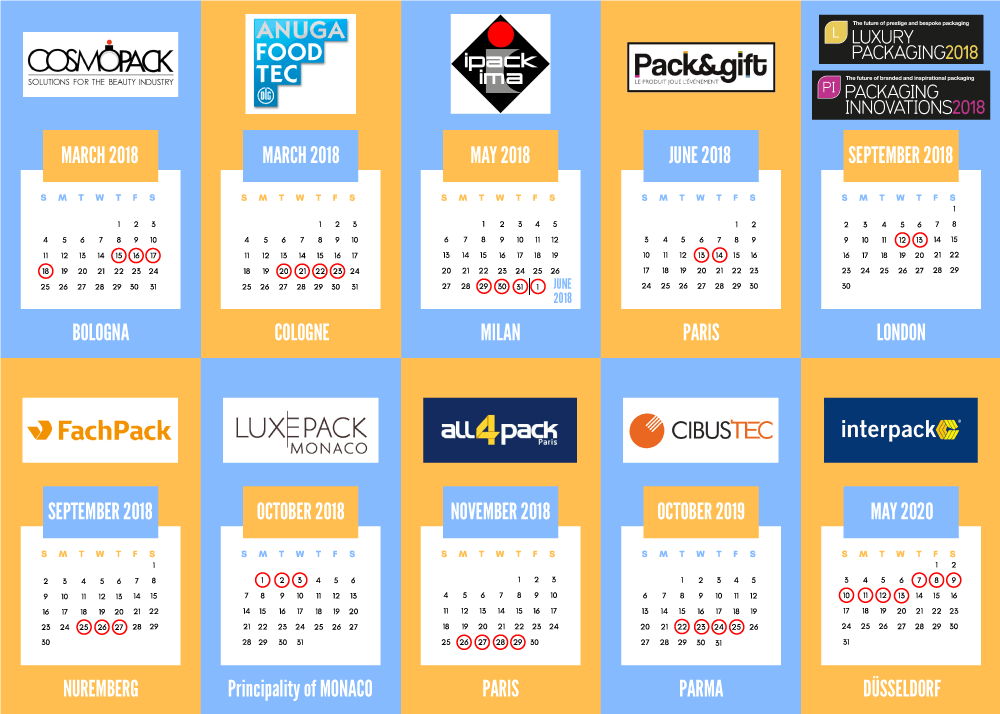 Check out our updated calendar for 2020!