Chocolate packaging has the power to transform a simple chocolate into a precious gift. Every detail must be designed to create a delicious anticipation because each box or case encloses a gift, a gesture of love or gratitude.

Chocolate packaging is a tangible way to convey the deepest feelings and make special moments even more memorable. Chocolate packaging is the canvas on which artisans tell their story and their passions. Alexandra Vergnes, who created D'lys Couleurs, a renowned online chocolate shop in the South of France, knows this well. In over 6 years, it has earned an impeccable reputation for creating high-quality, customisable chocolates and chocolate gifts. Using only 100% pure cocoa butter, with attention to no preservatives and natural flavorings. As a result, the chocolate shop embodies the values of taste, quality and passion.
Thanks to Packly they have created safe and elegant chocolate packaging that transforms simple chocolates into true masterpieces. Each package tells a story, capturing the imagination and igniting the enthusiasm of gourmets around the world.
In this interview, we discover how chocolate packaging "is also a reflection of what is hidden inside the box".
'Those of gluttony, they are the most beautiful sins,' we read on your website. Who can blame you? We either love or hate chocolate and fortunately most people love it! Your company produces delicious hand-made chocolate products. To explain: how did this passion and dedication for this world come about?
Simply from the love of chocolate itself! The creator of our chocolate brand, Alexandra Vergnes, loved to taste it, so she looked for a way to introduce everyone to the true taste of good chocolate. About 16 years ago e-commerce was booming, so she jumped at the chance. Alexandra was quickly joined by an equally chocolate-loving team! We all have the desire to create gourmet chocolates using artisanal know-how and to share this passion with our gourmet customers, this is what motivates us every day.
Packaging and chocolate have many things in common. For example, both seek to attract the customer's attention. The slogan indicates that each of your products is made with love. Which products are the most popular?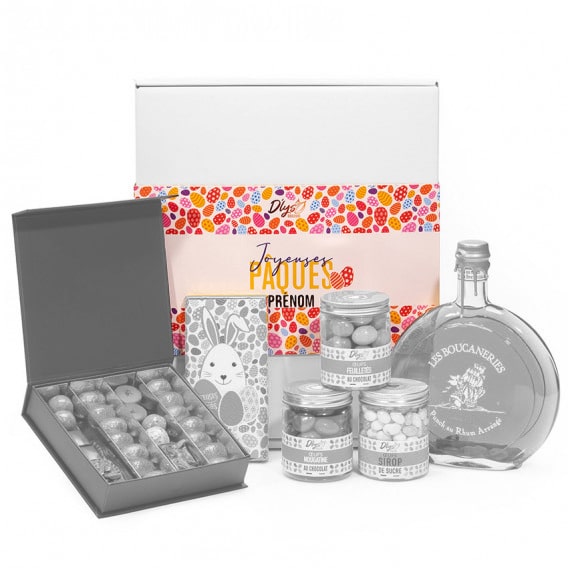 Most customers request our chocolates as a gourmet gift for their loved ones. That is why it is very important for us to take care of the packaging of our products and to create packaging for all occasions: birthdays, parties, message boxes… personalized packaging is very popular between our customers.
Someone once said that 'chocolate is the happiness you can eat'. We could say that chocolate is one of those products that sells itself. In your opinion, what is the role of packaging in the case of your handmade chocolate?
As mentioned earlier, packaging sends a message and is a very important factor in the purchase of a gift, the core of our business. Packaging is also a reflection of what is hidden inside the box of chocolates, we focus on making superior quality chocolates so it is only natural that our packaging is too!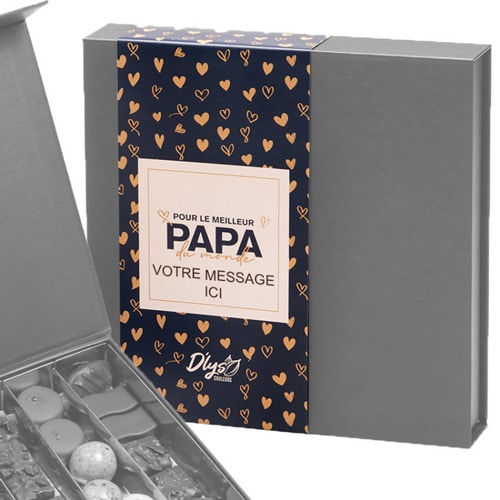 How did you discover Packly and what aspect of our platform convinced you to start?
We discovered Packly during our visit to the Luxe Pack Packaging trade fair in Munich. We were looking for sleeves for our boxes. What won us over on the platform was the fact that we could test sizes immediately, have a preview of the price and above all the result in 3D! The wide choice of products and the responsiveness of our Packly contact person also played a role in our decision-making process.
What types of packaging did you order on our site and how was the creation process? Did you make test orders before arriving at the final solution? How did your customers react to the new packaging?
With Packly, we created message sleeves for our gourmet boxes that we offer for different occasions, in particular: birthdays, Valentine's Day, Mother's Day, Christmas, etc. Secondly, the creation process was very long because we put a lot of thought into it. The support team was very patient, we talked a lot by e-mail (almost a hundred e-mails…), they answered all our questions, had samples sent to us to test and accompanied us in the creation of our new packaging. Another key point, is that our customers are very loyal to these themed boxes; of course, we are delighted with that result.
Conclusions
To conclude, the love for chocolate and the desire to tell and give emotions are at the heart of the D'lys Couleurs philosophy. The French chocolatier trusted Packly for its customisable sweets, and we always offer only the best to guarantee beautiful and safe packaging. What we have in common is also the love of handcrafting our products. So, that the two sectors are not so far apart in values? Make sure that every shape you give to your chocolates has a chocolate packaging that enhances and protects it. Take a look at our bold library!