Let's talk about coffee packaging design. Coffee is popular all over the world. It is available in many forms, from beans to powder, from pods to ground coffee. According to the type, we can find a lot of different packaging solutions. Some of them have been cleverly designed, reaching a perfect balance between brilliant concept and compelling design.
We are talking about coffee packaging design where images, colors, textures, fonts, and finishings have been harmoniously combined to obtain memorable results. These coffee boxes do not just tell a story, but they also convey their brand message in a clear and effective way.
To make some concrete example, we have selected some coffee packagings that have found the right way to rock the coffee world and get noticed.
Let's start with Octcafé coffee boxes. Octafé is a company which sells brewing coffee packed into ready-to-use bags. The dripping process used to make this kind of coffee consists of pouring hot water on the bags. The company has linked the dripping process to the dispersion of the ink into water. Hence the brand name and character was born.
Even the graphic design reflects this connection through its illustrations.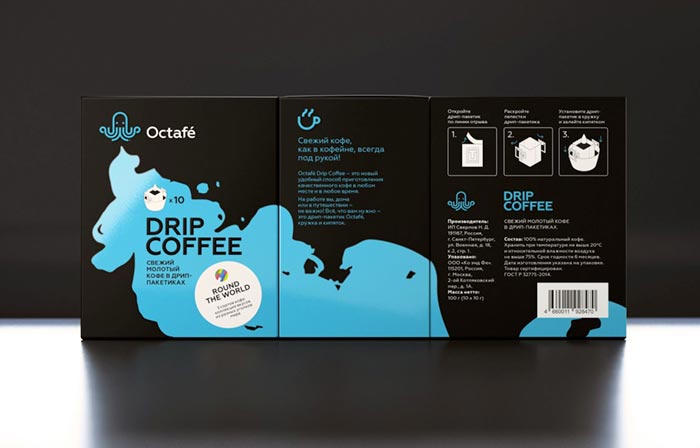 The same packaging design process has occurred for the Volcano at home coffee pods.
In this case, the particular shape of the items has directly inspired both structural and graphic design. Indeed, the pull-out box with internal holder has been specifically designed to protect and exhibit the pods. At the same time, graphic design has ironically reinterpreted the coffee pod image.
Starting from its silhouette, the designers have realized funny pictures of common objects, such as megaphones, bullets, etc. Each illustration identifies a different coffee flavor. For example, the Bold coffee pods, with a strong and intense taste, magically turned into explosive bullets. Let's have a look.
After this short introduction, you can now enjoy the coffee packaging design we selected for you and try to imagine what is behind their design. Have fun!