Shirts, ties, belts, wallets and bow ties are the most wanted gifts for Father's Day, a celebration, well-known all over the world, born to celebrate fatherhood and every father. According to tradition, in this occasion, celebrated in Italy on March 19th, sons are supposed to give a present to their father: choosing one of the above-mentioned accessories often allows making the best choice without thinking. Every man will need them at least once in his life, especially after a certain age. Starting from this idea, we developed the concept of the Father's Day custom packaging realised by Packly.
What is all about? It's about boxes that, for the occasion, put their best clothes on, more or less elegant, to show in a creative way the chosen gifts. A packaging able to touch even the most reserved and shyest father.
Elegance is certainly the keyword of the structural and graphic design of the proposed packaging. But what's beyond it? Simple boxes, realised on Packly, with some technical variations. A sleeve, with die-cuttings and creasings added on it, that turns into a tailored jacket with an upturned collar, made for a shirt shaped snap lock base box provided with a fine bow tie. The same box type has been used to realise the second packaging made up of a tie – carved on the package – that shows a texture printed on the open end box inside it. What about collars? A small extension of the box front that has been accurately cut and creased in order to obtain a flawless result.
As you can see, we need just little variations on the primary structure of standard boxes to obtain unconventional results. Thanks to cut shapes and additional creasings, we were able to create funny Father's Day custom packaging, as you will see in the pictures below.
If you are not ready to get into this challenge yet, then download our ready to print die-cut templates and buy your packaging on Packly…what to put inside them it's up to you. Even if it's all about ties and bow ties in line with the graphic elements being used or about other useful accessories, what matters is that your gift, together with your custom box, makes this occasion unforgettable!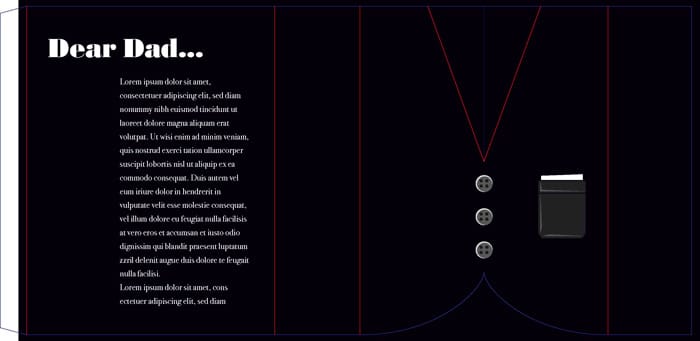 Download – File PDF (92 KB)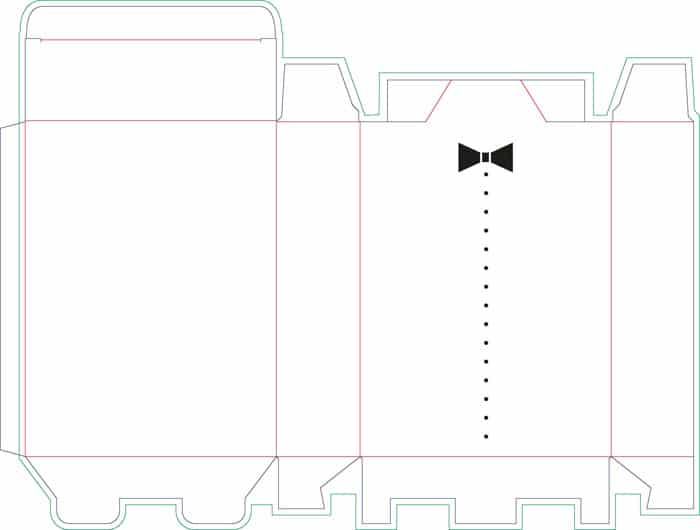 Download – File Pdf (69 KB)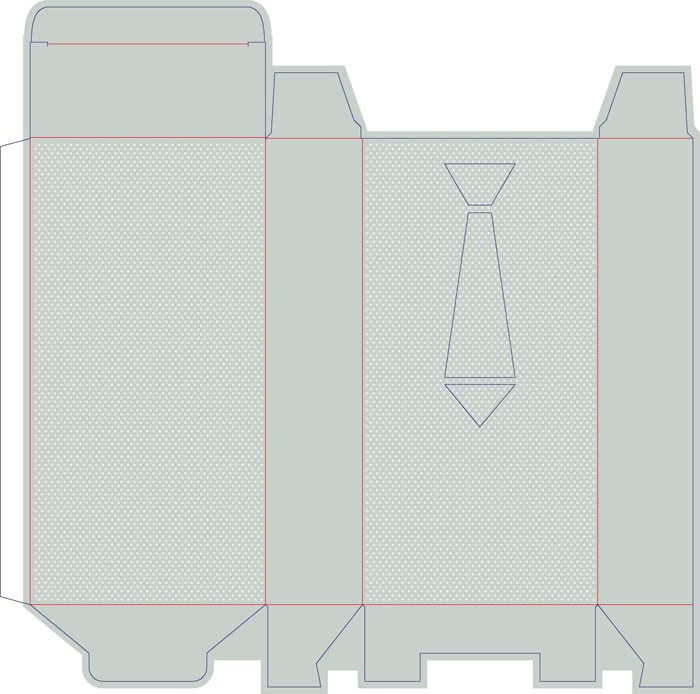 Download – File PDF (954 KB)
Download – File PDF (151 KB)
Packaging technical information:
Black jacket and bow tie box
Packaging type: Sleeve
Dimensions: 160x122x42
Packaging type: Snap lock base box
Dimensions: 120x40x160
Carved tie box
Packaging type: Snap lock base box
Dimensions: 102x42x202
Packaging type: Open end box
Dimensions: 100x40x200
Printing method: four-color process (CMYK)