As the Japanese tradition reminds us, folding paper is a real art. Our creatives took the opportunity to honor it by transforming Packly's gable top box into special packaging.
The Eastern mentality differs significantly from the Western one regarding packaging. In fact, behind the former, there is a conception of sacredness, which goes so far that the packaging becomes almost more important than the product contained in it. On this note, we proudly present Packly's gable top box, an object of stunning beauty.
Tsutsumi: packaging as a sacred object
The Japanese believe that packaging is an art form and that delivering an object means providing a gift.
Doubling down on this statement, for them, keeping an object in a package means not only protecting it but also embellishing it. Consequently, for those who donate, it means giving their time that was spent preparing the package.
For these reasons, packaging begins to be considered sacred because the time spent on it is a precious gift that no one can ever return.
Therefore, packaging must be praised and not discarded and thrown away in a hurry. A conception opposed to the Western one that sees the packaging as a wrapper to embellish and transport the final product.
There is a flip side to this. More attention is being paid to using packaging as a means of communication, a driving force behind the brand's values. How often do you buy or focus on something because it has beautiful packaging?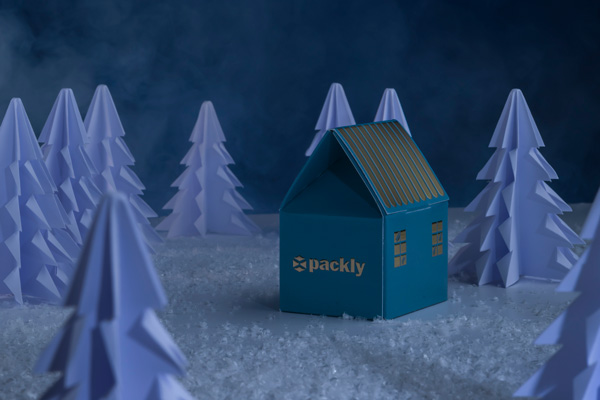 The Japanese packaging art is called Tsutsumi, which means "gift." It is an art as ancient as it is prestigious. In fact, it even involves a study of the product to choose the most appropriate box.
Geometric shapes and binding
In Japan, packaging with geometric shapes is preferred. Sometimes geometries are also created based on how the object is positioned, which is not necessarily perfectly parallel to the container. Each product is enhanced according to its characteristics. All this has a specific reason: to be more stimulating in the eyes of those who receive it.
Another fundamental aspect related to packaging is binding. For each occasion, there is a particular type of closure for the box. Behind this perspective also lies a very profound concept. Binding is synonymous with a bond that unites those who give the gift and those who receive it. Moreover, the ligature is often difficult to open because, as Fosco Maraini says: "… The Japanese want you to discover beauty with difficulty because the value of beauty, if you struggle to find it, is superior…"
Therefore, the care and attention paid to packaging are maximum. The focus is on the art of folding paper. Let's discover the model customized by the creatives at Packly to preserve your product better.
What can the Packly gable top box be used for?
The new inspiration, Made in Packly, is a multifunctional model. What can it contain? We set no limits to the imagination! Here we give you some tips.
Limited edition jewelry
What better case than a "little house" for your limited edition jewelry? The refinement of the packaging can only embellish an object that is already precious in itself. What an opportunity to present a limited edition, both the packaging and the product.
Beauty and cosmetics products
Cosmetics, creams, and lotions are suitable for a gable top box without a handle with an automatic bottom. Even the "travel format" products are well-guarded in this case.
Food packaging
Such a model is also indicated for storing food. Think of biscuits, chocolates, jams, creams, or simply single-portion foods. You get both excellent preservation and eye-catching presentation.

Candles
Last but not least: this model is suited for moderately sized decorative candles.
The strengths of an unusual packaging
You can use our designer ideas for exceptional packaging. However, what is striking is not only the aesthetics but also its value. Let us reveal its strengths.
Personalization – How many ideas have we suggested? Each of these deserves the correct graphics. We've always said that anonymous packaging doesn't work. This model lends itself well to customization. The common thread is what it will contain. Let's not forget the attention to detail of the Japanese. In our case, we wanted to give this packaging the value of custody understood as "home": the place where you feel protected and safe. Original, isn't it?
Versatility – As previously recommended, this model contains different products, from food to cosmetics. It is a highly versatile and adaptable type of box.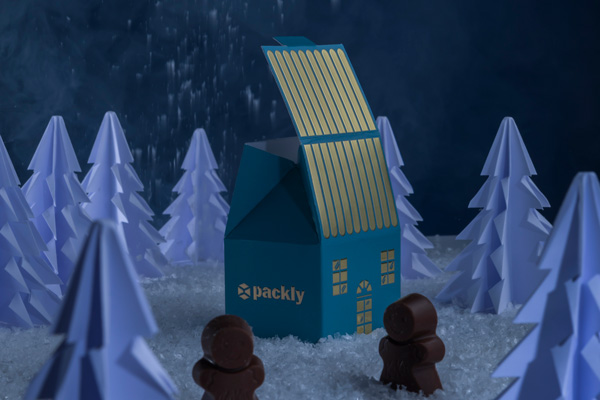 Sustainability and reuse – At Packly, we strive daily to ensure quality and sustainable products. This model could not be outdone. Green and reusable. On the other hand, let's not forget that the Japanese do not discard the packaging; on the contrary, they keep it as a sacred object. How could we disagree?
Visual rendering – The geometric shape of this gable top box and the captivating graphics support the thesis of Tsutsumi: the packaging must be beautiful to look at and functional. The first sense that comes into play in the purchase decision is precisely sight. Such a package will catch all eyes.
Technical information on the packaging
Type of packaging: Gable top box without handle – automatic bottom
Dimensions: 130 x 90 x 170 mm
Print Options: Color – CMYK
Special Finish: Gold embossed foil
Material: Cardboard SBS 300 g/mq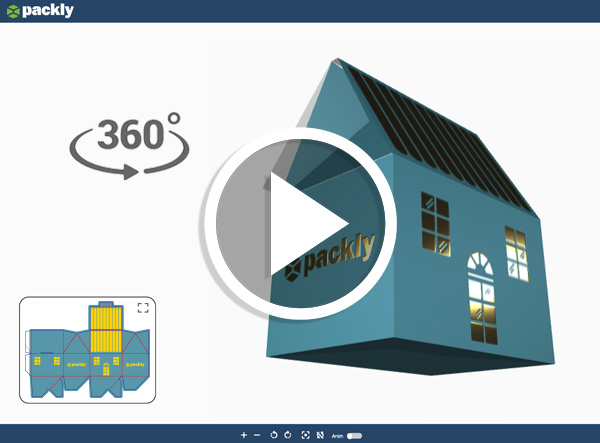 Conclusions
In short, a gift's value lies in the time taken to create it and in the proper packaging to store it. We follow the Japanese philosophy and create packaging that should not be thrown away once opened but is integral to the gift itself. Discover the beauty of our packaging and start designing.