An original point of view on packaging design and Leonardo Da Vinci. 500 years after the death of the genius, many are the tributes to his life and intuitions.
2019 marks the 500th anniversary from the death of Leonardo Da Vinci. In addition to countless themed events, packaging design also pays tribute to the 16th-century genius.
The studies and works of Leonardo Da Vinci have influenced the most varied sectors. The scientist has investigated every aspect of human life, from work tools to shapes, spaces and volumes. He has tried his hand at arts and crafts, covering all fields of human knowledge.
How was it possible? Through a model of thinking that is "duplicable" in every circumstance, condition and place, i.e. logical thinking.
No wonder that, for this historic anniversary, so many brands have paid tribute to the unforgettable painter, sculptor, philosopher, writer and scientist with special packaging design. Let's see some of the most successful.
Pininfarina dedicated a box set to the unforgettable Renaissance master.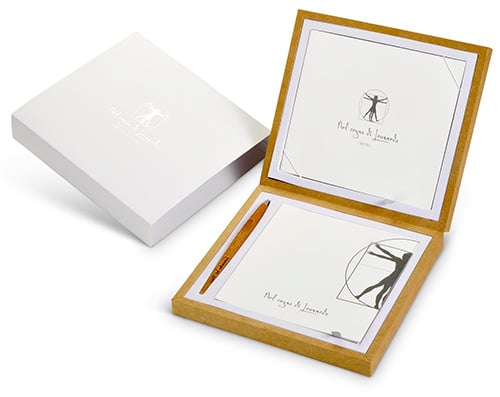 Montblanc has created a fountain pen inspired by the Tuscan maestro, with stunning packaging.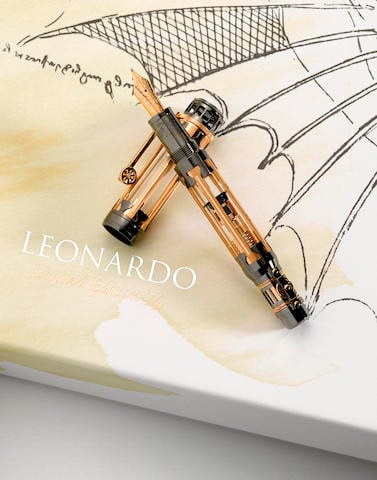 Another futuristic and suggestive pen by Montegrappa was inspired by Leonardo and boxed in a suggestive packaging material.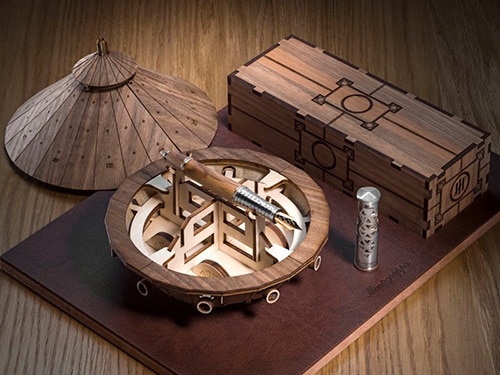 A wine, from grapes grown in the hometown of the multifaceted inventor, was marketed with vintage style label and packaging.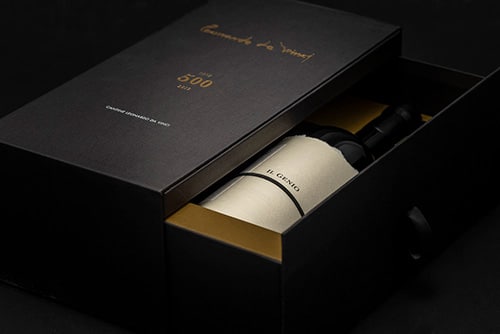 But if Leonardo had lived today, what contribution would he have made to the world of packaging design?
We like to think that Leonardo would have been a huge fan of sustainable packaging. The common denominator for all of his production is observation and love for nature. In a late paper, the author outlines apocalyptic scenarios and natural disasters caused by man's failure to respect the codes and balances of mother earth.
With an obsessive attention to detail, Leonardo loved to make hypnotic sketches, to which he added details of an impressive realism. Just think for example of the shadows in the Vitruvian Man, where he investigated the perfect proportion of human anatomical shapes.
Moreover, the unsurpassed master of the Renaissance was a fanatic of prototypes, that he used to create after producing countless preparatory drawings.
Someone called Leonardo da Vinci, the first User Experience Designer in history. It could seem risky, but it is just a fair assumption. Before starting his paintings, Leonardo devoted a great deal of time to research, drawing inspiration from the real world in order to capture unique aesthetic traits and translate them into countless sketches that would later flow into the final work.
His intent was to raise an emotion in the observer and to create an experience beyond expectations. We like to think that if Leonardo had lived today he would have been a top fan of Packly because on our platform he could have unleashed his passion for design by creating prototypes to improve and perfect his final masterpieces.
His best quote? "Simplicity is the ultimate sophistication" which is also the philosophy behind Packly. Test your Da Vinci-like ingenuity and start building a prototype!