Nestlé spring goes green. As announced in its press release, the company will soon say goodbye to the Nesquik yellow box. Indeed, brand new plastic-free packagings made of coated and fully recyclable paperboard will replace the old ones.
The material choice was not an easy one. The new Nesquik All Natural plastic-free packagings required a material able to meet three fundamental requirements: food contact, sustainability, and mechanical strength. Indeed, the packages commonly employed in this industry are often fragile and, for this reason, the company had to find a material that was, at the same time, food-grade, recyclable, and strong enough to replace the ones generally used.
In addition to the packagings, Nestlé has also modified the list of ingredients composing the product. It is now made only from 5 natural elements, and it also has 20% less sugar.
Nesquik All Natural plastic-free packagings: the idea
The repackaging process is part of a broader environmental strategy adopted by the Swiss company. The idea was born from the struggle against plastic pollution conducted by many companies and government agencies. According to its new environmental commitment, Nestlé aims to turn all the packagings reusable or recyclable by 2025.
The new Nesquik All Natural plastic-free packagings are just one of the first steps that the company is taking in this direction. It is a bold choice, considering the commercial and promotional importance acquired by the famous plastic package during the year. For example, during the 80s and 90s, the yellow box became the Italian mascot of the product. For the consumers, it was an important identification and reassurance element.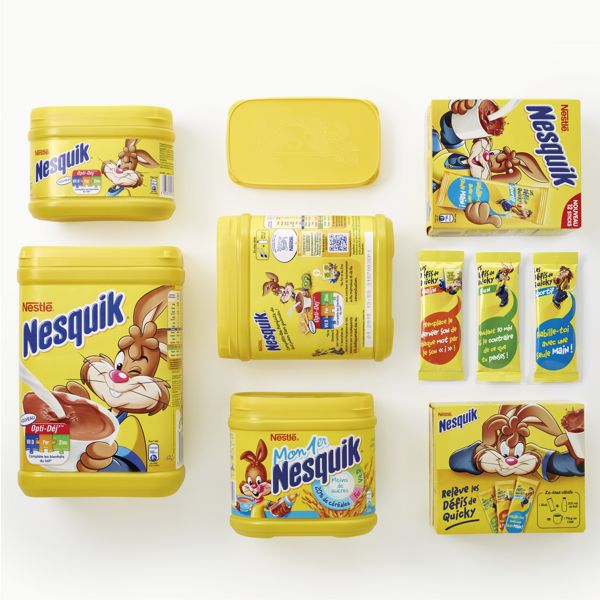 In spite of this, by renewing its packagings, Nestlé aims to meet the new needs of the consumers, who are seeking products that are increasingly responsible and environmentally conscious.
Specifically, as Yasser Abdul-Malak, Head of the Dairy category for Europe, Middle East, and North Africa, said: "moving from plastic to paper is a big challenge, but an important step in designing the food packaging of the future. We have taken that step today to ensure we truly meet consumers' demand for more natural and sustainable food."
As already mentioned, Nestlé is not the only company that is moving in this direction. Would you know something more about this topic? Have a look at the article about "4 packaging recycling initiatives that will change consumers habits".