Shauna Rudd from Ivy's Poison, interviewed by Packly, talks about magic, mystery, and the connection between packaging and perfume. "Something Wicked" and the Magic Box are under the spotlight.
In this exclusive interview for Packly, Shauna Rudd talks about her latest creation, her inspiration, the creative processes, and "Something Wicked," her latest product. With years of industry experience and a passion for creating unique fragrances, she has distinguished herself as one of the most talented and innovative in her field. Let's find out what's behind the bouquet and why packaging and perfume are related.
Can you tell me about the inspiration behind the fragrance Something Wicked?
I adore rich, opulent ambers, and I designed Something Wicked to be my ultimate amber perfume that brings in some of my favorite notes: cardamom, rosewater, and the most elegant patchouli that ages for ten years in oak barrels.
The smoothness of this patchouli with cedarwood, sweet myrrh, powdery vanilla, animalic notes, and furry musks creates an overall subtle effect that almost purrs on the skin – not quite a skin scent, but very soft, with a definite vintage vibe. I think it's a defining scent that's true to the brand, which takes its cue from 1800s apothecaries.
Your line is inspired by literary fathers such as Baudelaire or Shakespeare. Are they just purely cultural references for you, or does your personality reflect in the perfumes you create?
Ah, yes – the writings of Charles Baudelaire and Edgar Allan Poe inspire me profoundly, and Ivy's Poison as a brand originated from that source. Baudelaire captures the gothic allure of flowers so vividly in "Les fleurs du mal" (1857) and refers to perfume as "a beloved poison prepared by the angels," which struck me.
I realized that the most fascinating and beautiful things always have a dark side – which is true of our precious natural extracts such as rose, orange blossom, and so many more. The secret to harnessing their beauty lies in knowing and respecting their limits. This bewitching side is what Ivy's Poison brings to each new potion – be it a perfume, incense, or skin care. You get all of the gothic allure with none of the actual perils.
Of course, my personality emerges too. After all, aspects of my personality drew me to the poetry of Baudelaire, though I will admit that I'm typically not that dark. My perfumes are inspired by visceral and pleasant personal experiences, which will translate into future scents planned for release this year.
What do you think people expect when they buy your perfumes?
I honestly don't know. I realize that it would make brilliant business sense to have an answer to that question, but the truth is, I make a perfume that I love, and I sincerely hope that others enjoy it, too. I aim to bottle a mood or a moment, and I hope that people can pick up on these fragrant invisible micro-cues, transport them to that place, and make the scent a part of their own experience.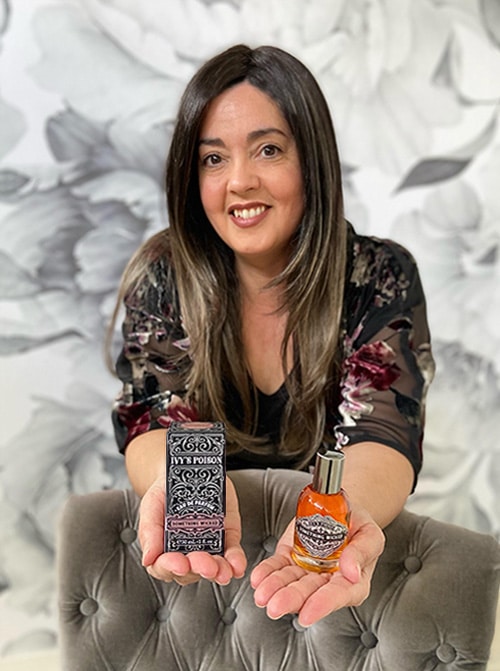 Let's talk about the packaging. Do you believe there is a connection between perfume and packaging?
Absolutely. Perfume (or any beauty product, for that matter) is mostly about packaging. My designer, Stefano Vetere in Milan, is a creative wizard, and I'm so fortunate to be working with him through 99designs and Behance. He perfectly captured the vintage-gothic look and feel I envisioned for my brand. From the shape of the bottle to the label design to the print quality and feel of the packaging, it all comes together and creates a bit of magic for the customer.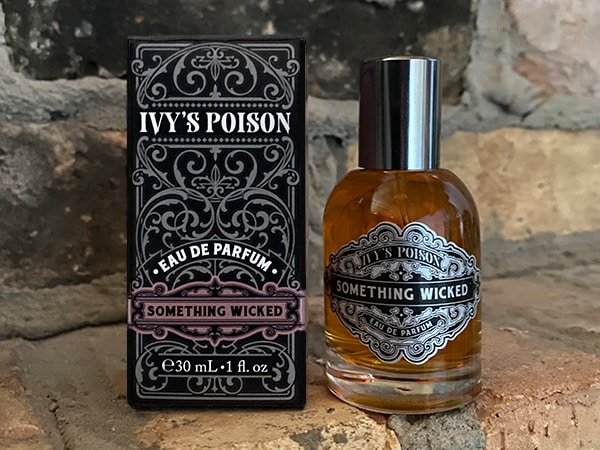 Does the packaging you created with Packly reflect the aura of mystery you want to shed around Something Wicked?
Oh, yes. The design of my box is very on-brand, with its dark shades, vintage foliage, and floral motifs. But in fact, this little perfume box would not exist if not for Packly – I wouldn't have been able to realize my vision any other way. Packly made it possible by offering the rare unicorn of small runs combined with high print quality and fast turnaround.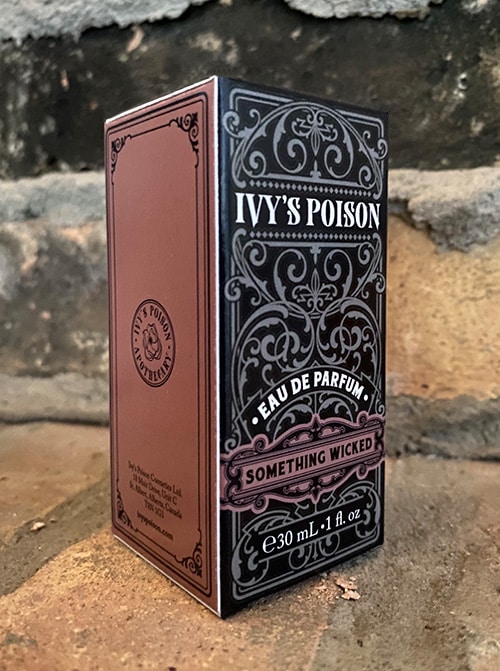 A perfume works like packaging: for example, you must keep it in good standing and explain how to preserve it. Do you find that Packly reflects your perfume's values?
Packly reflects the brand values of Ivy's Poison in the sense that both are 'boutique' experiences. Although Packly does have the capacity to run large-scale packaging projects, they put as much attention into my micro runs. They even called to follow up and ensure I was happy with the result (of course I was). I was already impressed, but this level of service blew my mind.
How did you run into Packly, and how would you rate the experience?
Ivy's Poison is a small start-up, and I don't need thousands of boxes, which is the minimum run for most printers. So, you can't imagine my euphoria when my local printer in Edmonton, Canada (Impactica) pointed me to Packly.
Impactica does a beautiful job with low minimum quantities on my perfume bottle labels; Still, they didn't have a cost-effective solution for my outer box – I would have needed to create a dieline, which is costly, and print thousands of packages. With Packly, I could choose a dieline, set my dimensions, upload the design, and print just one box to test – or any amount of packages I needed.
Plus, there are options for incorporating unique materials and finishes, which is almost unheard of for small runs. My experience with Packly was literally out of this world, and they helped make my brand come to life in a way I never thought possible.
Conclusions
If you have many ideas and need more time to create your packaging, try Packly! Here, there's no minimum order. Plus, you can run tests and evaluate the quality of the results in real-time online or offline if you choose our printing services. What are you waiting for?