Packaging for cocktails: a curious initiative turning into an international success. While waiting to return to the bars, the kit of the perfect bartender comes in very pleasant packs, directly at home.
Packaging for cocktails. The initiative to package single-serving aperitifs and long drinks came to light a couple of years ago. Thanks to the 2020 lockdown, the nostalgia of pubs and nightclubs has transformed this into the trend of the moment.
We are pleased to review the most iconic and successful packaging accompanying our favorite drinks on their way to our homes. As usual you can get inspired and create brand new solutions with Packly.
Let's start with a product that, despite the Brexit, winks at us from the wuthering heights of the UK. We're looking at a very simple 1-2-3 bottom box. The graphics impresses us for that vaguely retro touch given by the juniper branches that set the 60s mood. There are also vintage illustrations for aromatic fruit and distillery tools. A ribbon stands out, drawn as well, underlining the British origin of the decidedly strong cocktail. God Save the Queen.
Christmas has just passed but it's always time for a nice gift. It's what this cocktail packaging seems to suggest in the form of a tropical forest-themed rollover hinged lid box. The payoff stands out: "life is too short for thoughtless gifts". The kit contains different ingredients, from vodka to coffee liqueur, together with a shaker capable of turning anyone into Tom Cruise in the role of the fascinating bartender from the movie Cocktail.
Let's move back in house with this exclusive kit by Distilleria Nardini contained in a very practical gable top box with handle. The white background is candid as well as the Renaissance-style black drawings. Inside we find pre-dosed bottles for an exquisite aperitif together with a simple but effective glass with the ideal shape and capacity.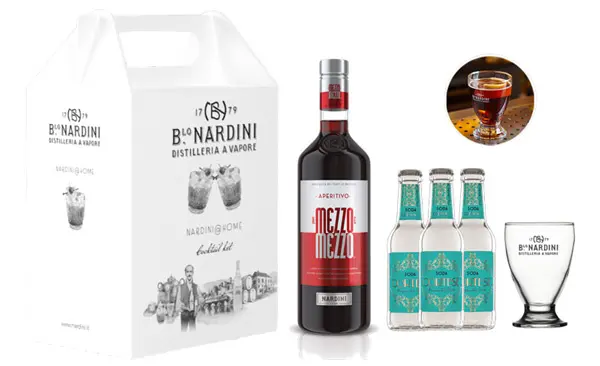 Speaking of aperitifs, the greatest Italian classic is the timeless Spritz, popular especially in Veneto. We can see a tray and lid box with an extremely large window. The stylized background theme is, needless to say, orange. Inside we see a bottle looking almost like that of a syrup, next to which stands a package of gummy candies covered with sugar. We are not quite sure about their role, because we would definitely prefer to nibble on a slice of fresh blood orange. However, for those who ran out or for greedy children this could be an alternative.
We wrap up with a product of extraordinary elegance. The slim tuck end box and the optical white background characterize the whole as minimal. As on a Chanel number 5 package, the black writing NIO stands out, meaning needs ice only, and the made in Italy specification below. The round central window like the porthole of a ship is particularly remarkable. Inside, free to flow and to create fascinating waves and shapes, is the colorful and exquisite cocktail. In this image we see the Manhattan mixture and we already imagine the Sex and the City remake ladies while they sip it during a gossip session.
Conclusions
Do you have a food and beverage item to launch with an innovative positioning on the market? In our roundup have you found a valid idea for some impressive packaging for cocktails or alike? Create a prototype, a single one or several copies and we will conveniently ship it to you to any chosen destination.