Packaging for technologic products is crucial in a world where technology integrates with everyday life.
Dimensione: Packly's packaging for technologic products
The Internet is our greatest ally. Life without connectivity is now unthinkable. That's why we need packaging that protects the invisible wires that connect us with the world and within the world. Dimensione is the company that understands how essential the internet is. That's why it connects you "at ultra-speed"! Read the interview and discover how they made custom internet with a little help from Packly.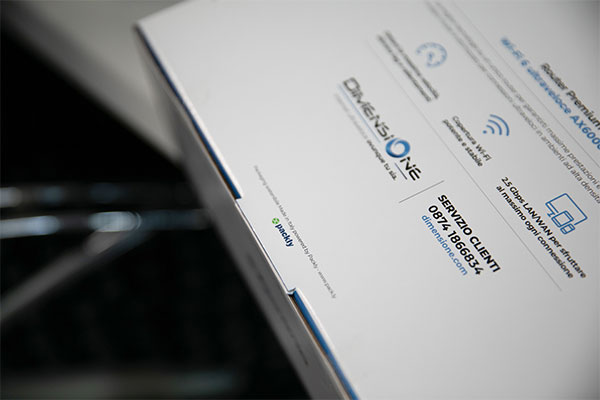 Technology is a "journey" we embark on every day. We live in an increasingly connected and immediate world, and just one day of a social media outage can cause anxiety. Is there a way to avoid this? Dimensione seems to have the answer! We're talking about a company from Molise that knows how to strengthen the bond between us and the internet through ultra-fast solutions. Wherever we are.
From ultra-fast connections that unite the digital world to the love and attention they give to every person who becomes part of their network (online and offline), get ready to discover how the company that brings fiber optics into everyday life has created a custom packaging for technologic products with the help of Packly.
If we were to describe Dimensione, what would be the three adjectives to immediately convey who you are and what you do in the world of ultra-fast internet connections?
To answer this question, I would like to adopt the words that our customers dedicate to us daily, as we have received about 1,500 spontaneous reviews on Trustpilot. I feel it is important to express gratitude to all those who have taken a few minutes to reward and motivate our work whenever the opportunity arises.
Dimensione is "innovative," "reliable," and "fast." These are the three adjectives that are most frequently mentioned in the shared testimonials.
Our company is innovative because it offers cutting-edge internet connectivity solutions that can meet the needs of everyone and fully leverage digital opportunities. Our experience and passion for technology have made us pioneers in providing the best solutions on the market, allowing us to always play an expert role in shaping the future of ultra-fast connections. For example, Dimensione was the first company to introduce a 10 Gigabit connection offer on the Open Fiber network.
Reliability is another distinctive contribution of Dimensione. We have invested in a solid and advanced network infrastructure, guaranteeing access to stable and fast connections while maintaining a competitive offer.
Lastly, I can say that Dimensione is fast not only in connection but in all aspects of its operations. Decisions are made quickly, both at the strategic and operational levels. Response times to customer requests are extremely rapid, and this communicative speed reflects the attention we pay to customer satisfaction.
The harmony felt among the members of our team is noticeable as soon as you enter the company, thanks to the constant sharing of corporate goals, which can only be achieved through complete and continuous cooperation.
Dimensione not only offers ultra-fast connections but also has a special relationship with customers through online and offline assistance. What is your mission and your core values? How do you seek to distinguish yourselves and meet the needs of your customers?
Dimensione's mission is to go beyond the mere provision of ultra-fast connections, aspiring to build authentic and lasting relationships with customers.
Territoriality, transparency, quality, involvement, and assistance are just some of the values that represent the essence of Dimensione and set us apart in the industry.
We work tirelessly to provide reliable connectivity supported by comprehensive customer support. For this reason, we are committed to distinguishing ourselves through dedicated assistance and the provision of personalized solutions. Our customers' needs are constantly evolving, and we study them carefully to keep the company aligned with market dynamics. This approach allows us to adapt, innovate, provide value, and simultaneously contribute to our success and business growth.
Both Packly and Dimensione place great value on personalized customization. How did you decide to collaborate with Packly for packaging creation? And what model did you choose?
Packly is a local entity that makes us very proud of our region, in addition to being a certainty for us at Dimensione.
Thanks to Packly, we started using customized boxes for our products to make their strengths clear and simple and strengthen our brand identity. For the launch of the brand-new Wi-Fi 6 2.5G AX6000 Router, which we provide for free with our offers, we decided to continue this successful collaboration, which has proven to be a winner. With the rollover hinged lid with a hook model, we found an ideal balance between functionality and aesthetics. This concept reflects the approach we adopt every day: always seeking the optimal solution and the best experience for our customers!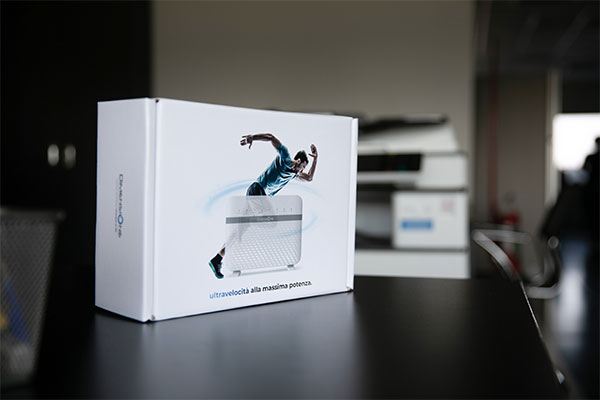 We would like to know how your team's experience was in using Packly's platform for packaging design. What impressed you the most during the creation process?
Our team's experience in using the Packly platform was extremely positive and productive. What impressed us the most during the creation process was the ease and flexibility offered by the platform itself.
Packly allowed us to quickly and efficiently translate our creative ideas into reality. The wide range of design and customization tools gave us the freedom to experiment with different layouts and designs, allowing us to create unique packaging that aligns with our corporate identity.
The platform's intuitive interface was particularly appreciated, along with the ability to preview our projects in an engaging 3D format. These elements facilitated decision-making and significantly accelerated the creative process. Additionally, obtaining physical packaging samples before final production ensured a result that faithfully matched our vision.
Packaging is essential for communicating a company's identity and values. How did you tackle this challenge through the packaging design created with Packly? What elements did you choose to include to best represent Dimensione?
As mentioned earlier, the box for the new router was designed to have a unique and easily recognizable packaging, not only to differentiate it from competitors but also to reflect the company's mission and what it represents today.
The visible elements we integrated include: speed, transparency, reliability, and security. Layout is dominated by the color white, giving it an essential style and enhancing the overall image. The blue, used for the subject's uniform, corresponds to Dimensione's logo color. This color is reassuring and conveys trust and tranquility, contrasting with the power and speed that the product represents. Furthermore, we added gray to express elegance, detachment, and essentiality. On the back of the box, we included the main features of the router, which are of fundamental importance. However, they are meant to be read later because our customers love to talk to us, and when they receive the router at home… well, they already know it!
What message or advice would you give to other companies considering the option of collaborating with Packly for their customized packaging, based on your positive experience?
The message we want to share with companies interested in collaborating with Packly is not to wait any longer. Collaborating with Packly is a strength for improving the customer experience and strengthening the brand's identity. Our advice is to thoroughly explore all the possibilities offered by the platform, fully utilize the preview features, and request physical samples. These essential steps will assist you in developing the ideal design, ensuring that the final result fully meets your expectations. The customization experience offered by Packly can add significant value to your brand and customer relationships.
Conclusions
In conclusion, having the opportunity to speak with Dimensione has provided us with an interesting insight into how personalized packaging can play a crucial role in communicating the identity and values of a company in the technology sector. Dimensione has demonstrated how it is possible to go beyond the mere provision of ultra-fast connections, offering a comprehensive and personalized service. The use of Packly was a key element in this process, allowing the Dimensione team to create unique and easily recognizable packaging for technologic products, that reflects its values of speed, transparency, reliability, and security.