A captivating packaging, simple but also attentive to the environment, contributes to persuading buyers of the so called superfoods. A sustainable boxing, made of material cardboard and in relaxing colors, helps consumers find their way around the shelves.

For some years now we have been hearing about Superfoods and, although at first glance it may bring to mind the superheroes, it is much simpler than that. Superfoods are multi-purposed foods having a high concentration of nutrients and that are ultimately good for your health. The growing attention to what we eat is part of a trend that has been ongoing and that has led consumers to be more and more careful when selecting and choosing food, not only in terms of taste but also from the point of view of ethics and health.
The opinions on superfoods are in some cases contrasting. For some it is only a well-conceived marketing strategy, for many it is a very precise choice based on scientific evidence and going beyond the fashionable trends. In any case, in order to manage the expectations and control the damage, the European Union has limited the use of the word "superfood" on packaging exclusively to foods whose properties are adequately documented and monitored by scientific studies.
The research carried out in these areas is revolutionizing our diet and has paved the way for a new approach to food, which is more and more conscious and increasingly customized. The growing success of superfoods and functional foods has strongly modified buying habits and, since we are talking about foods with healing powers, packaging plays a fundamental role like never before.
Goji berries, chia seeds, edible seaweed, coconut water, cocoa beans, granola, are just some of the superfoods that are now available in all supermarkets. Their packaging, which is carefully thought out and studied, stands out from the shelves to convince us to purchase them with the promise to make a difference in our lives through healthier nutrition.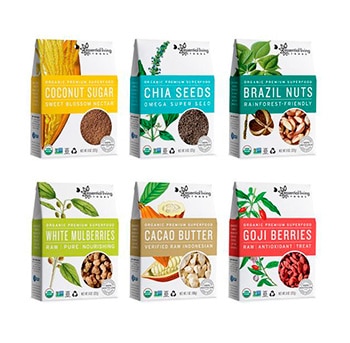 Persuading someone to purchase a superfood is not so simple. It does not suffice to say that something is ultimately good for your body. The target audience is made up of particularly smart consumers, with a medium-high income, who regularly practice sports and who are particularly involved in self-care, paying close attention to the quality and sustainability of products, even when it comes to packaging.
The purchasing habits of these consumers are pondered and reasoned. That is why packaging becomes the trusted interlocutor, the communication vehicle through which the product gets presented. The boxes of this type of food distinguish themselves through the extremely linear and clean graphics, with no useless add ons.
The design often contains illustrations, something along the lines of sketching, and the choice of materials is markedly oriented towards sustainability, also because every aspect of the packaging contributes to conveying the message that you are not simply buying something, but you are choosing your lifestyle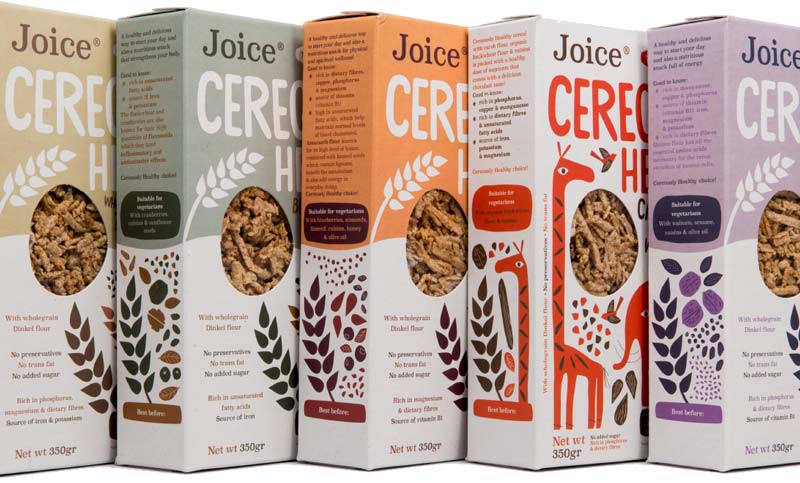 A common denominator amongst these types of packaging is the clarity of the message and the spotlight on the quality of the ingredients and nutritional properties.
With regards to the cardboard packaging there is a strong rediscovery of natural materials, for example paperboard with a textured touch made from sustainable sources. Most widespread colors are pastel shades, which are extremely natural and bear a strong reference to the colors of nature. No luxury finishing attached, no glossy treatment or lamination that could convey a sense of artificiality, we could call it a "raw" style packaging like the products it contains.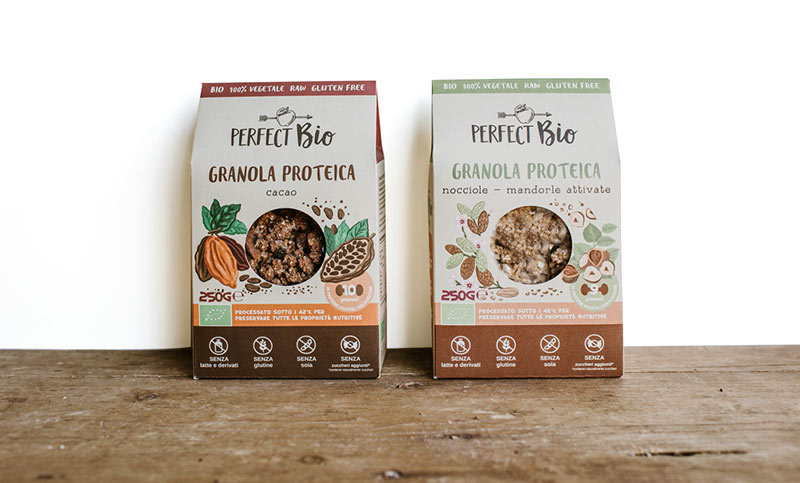 Look at the gallery of superfood boxes we have chosen for you. Take a trip though the innovative world of superfoods and get ready for the next experience: we'll talk about Novel Food. Curious? Follow our Blog and find out more!