2021 advent with Packly's calendar. Find out how to cheer up the Christmas waiting time and promote your products.
This year, we would like to enrich your advent with Packly's calendar. You may have noticed how companies have been using the advent calendar as a smart tool. In addition to being an engaging gift idea, it is a practical way to enclose many products in a single package. It's a sort of mini-catalog, if you will. In fact, it is not uncommon for the sales of some items to take off, after consumers have tried a sample.
However, it takes a certain amount of creativity to put the idea into practice. Packly immediately got down to work for you. We are indeed happy to present our 2021 version of an advent calendar. The prototype is already finalized and optimized. Just customize it and use it to your liking. Sometimes we hear: "Well, but mine is a service company, not a product company", even better! You can print cards with discount codes, tips and tricks, personalized advice and insert one per box until Christmas day, thus also obtaining a "gamification" effect.
Advent with Packly's calendar: the surprise tree
Let's start with the base of our advent calendar. It is a bottom and lid box with double-walled tray. Nothing new so far. Packly's creatives, however, wanted to play with volumes, with graphics, with carvings to create some sort of a board game: an exciting Christmas version of Monopoly. Let's check it out.
Firstly, on the lid we find horizontal perforations that recall the different branch levels of a fir. Secondly, the graphics is a starry night over a snowy village at the foot of the mountains. You have already entered a dreamy mood, haven't you? Well, that's not all.
Thirdly, on the inside the shape of the Christmas tree unfolds through a pyramid of inserts. Each contains a small box to extract and open. Most importantly, the logo on the top of the boxes is already visible with the lid closed. These boxes replay the graphics of the houses we mentioned earlier, an interactive nativity scene we could say. The creativity of the boxes is unique, but properly designed to have the chance to use the green of the top and the blue of the bottom. , there is a box for every day separating us from Christmas, to accompany the advent with Packly's calendar. At the base of the fir there are 4 cases in a different color, which could represent a vase, or some gifts already placed under the tree.
You can keep the dimensions that we have set, perhaps inputting small sweets, make-up samples, mini-jewels and printed cards. We have imagined them just as small windows, each of which contains for instance a wish or a new year's purpose.
However, you can also make it bigger, depending on what the boxes will contain. Similarly, just add your logo and any special finishes, if you deem appropriate. The graphics can adapt to your own brand features, or you can use ours. For lovers of sharing, you can also pull out the boxes and give them to someone else. As a matter of fact, each of them is a perfectly fine gift box. Ingenious, right?
Technical information on packaging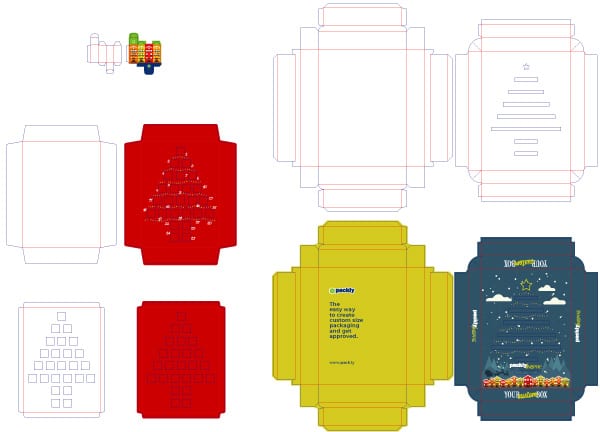 Conclusions
In conclusion, do you want to create a gift for customers, a branding or gamification tool to accompany the advent with an inspirational calendar? We've got news: Packly has already made it for you. If you prefer to do it yourself instead, start with our catalog. You can experiment as much as you want by creating prototypes, you can check the shareable 3D preview and ask us to print them. What are you waiting for? There are no minimum orders!