Even in the glossy world of fashion, packaging is the violin key to define the customer experience and create loyalty: from boxes for clothes, ties or underwear to luxury accessories
If fast fashion has accustomed us to extremely spartan or zero packaging, like the lousy plastic or paper bag, in the medium-high segments the scenario changes abruptly.
Whether it's real designer clothing or various accessories, the boxes and packaging are the brand's business card and as such they must surprise, gratify and flatter buyers.
At Packly, as usual, we want to share with you some food for thought, virtuous examples and fanciful suggestions so that the experience of your brand remains vivid in the minds of consumers, before, during but above all after the unboxing. Does this seem like an ambitious goal?
Sit back, relax and prepare the popcorn. We bet you won't help but get stuck to the screen. Ok, we also like to win easy every so often, so let's play the trump ace right away. Does the name Gucci mean anything to you? Surely the historic Italian brand owes its success to the unmistakable style and premium quality of the materials used to make its products but also the presentation, hence the packaging, is a key element. Observe these simple boxes with lids. There is nothing extraordinary from the point of view of shape, materials or artwork. A plain color with an unmistakable background pattern, the visible logo and an elegant bow as closure. Do we need anything else? In our opinion no, we are already looking out onto Piazzale Michelangelo from the balcony of a panoramic villa in Florence.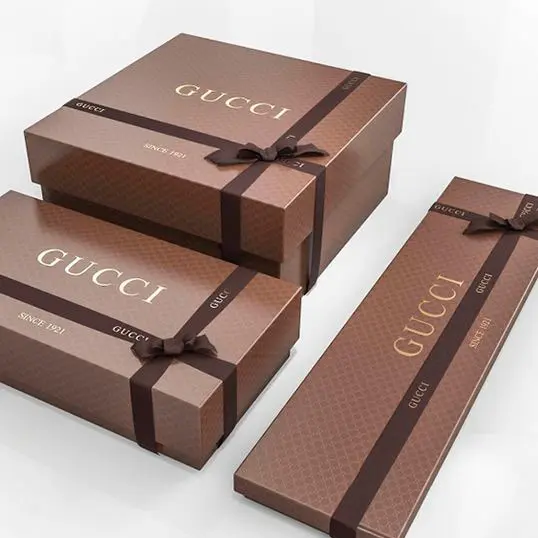 But let's compare our local excellence with a French brand with which the competition has always been tight. Chanel, whether it is for fashion, perfumery or alike, always aims at the core. An immaculate white lid box with contours and logo in black paint. You are probably thinking: is that it? Well great design teaches us that less is more and the inspirational glamour effect is served.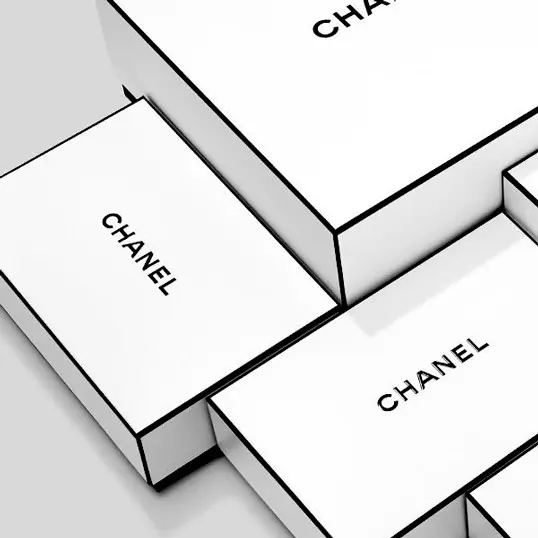 You won't believe it but one of the most sought-after items in the packaging world are boxes for ties and neckties. What can we say about Aldo, the box seems almost borrowed from the food segment, with a shaped window that lets the whimsical bow tie emerge in all its unconventional disruption. The sky is the limit and as such it is depicted on the background. This is packaging, baby!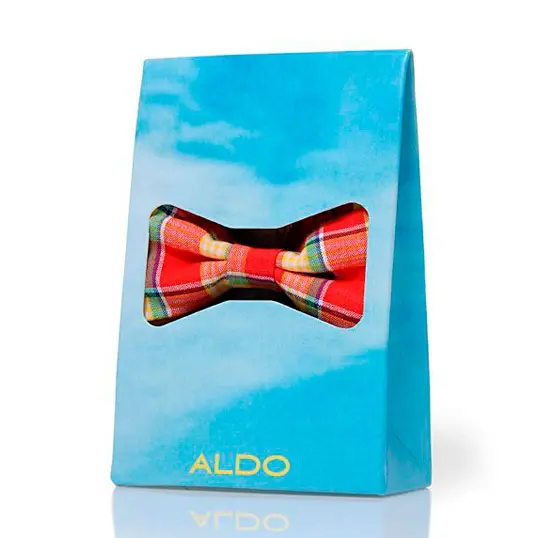 Motoluxe, the British sportswear brand, spices things up with essential but lively boxes and straps, played on the yellow and green tones that make up the logo and declined in various formats. In some cases it is not straightforward whether they contain underwear or fountain pens. One thing is certain: packaging is fashion and goes hand in hand with both luxury and sportiness with a chic connotation.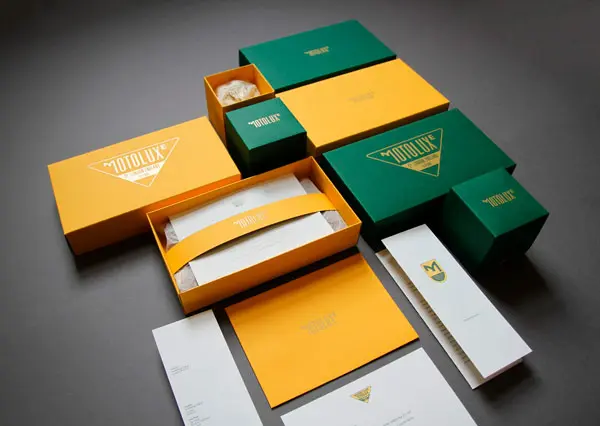 Let's end the roundup with some decidedly unconventional packaging. If you are thinking of a box full of hot dogs with side dishes of potato chips or a doggy bag with leftovers from the restaurant, you sure have imagination but your stomachs will be disappointed. It is a box with boldly shaped handles, made of resistant cardboard and with certain visual impact. The graphic elements are very simple and reminiscent of fashion brands from the late 80s, early 90s. This is how Stanteria clothing gives us its classic but fancy t-shirts. The box is not just a container to carry the goods home but it is a real fashion statement, an accessory that can go beyond its containment function because, we bet, it can be repurposed as a beauty case or similar.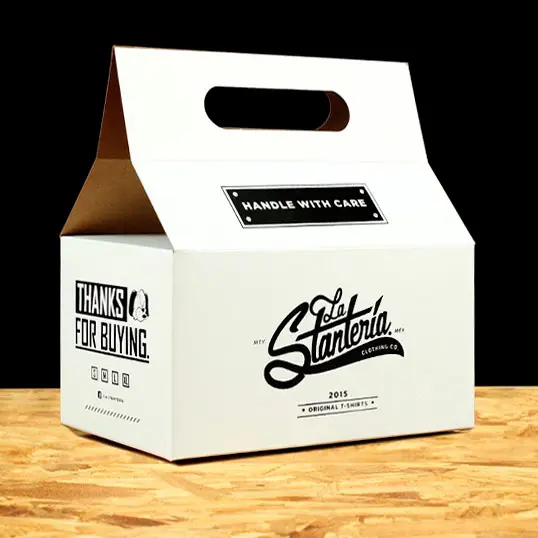 However, reusing packaging is another topic which we promise to address later. We don't want to distract you from our focus today: what did you learn about fashion and luxury packaging? Have you chosen a classic, unconventional or sparkling packaging line for your clothes, underwear or fashion accessories?
Try now by building a prototype without minimum orders. Once you have received the boxes and tested the results, you can come back to our site for an expanded production. What are you waiting for? Get on with it now.