Packaging trends for 2020. The 6 packaging design trends to keep an eye on, as seen by Packly
2019 is running out. We leave year-end considerations and conclusions to each of you individually. Instead what we would like to do is try to imagine and interpret packaging design trends for the year 2020.

Some suggestions will not surprise you, because we have also talked about them here on the blog. Other ideas might seem futuristic and not very feasible on a small scale, but we can assure you that this is not the case.

Fasten your seat belts, relax with a good Italian sparkling wine and let's start with our exploration of packaging design trends that will mark the pace in the market.

1. Sustainability
This year was undoubtedly characterized by a charismatic and iconic figure like that of Greta Thunberg. The young Swede was able to involve crowds of young and elder people in her #fridaysforfuture. These were street demonstrations for the environment, to draw the attention of politicians and world leaders to the future of our planet. The packaging world is no exception. The watchword is therefore drastic reduction in packaging, a choice of green and eco-friendly materials. It is not a secret that some industries such as food, household and personal care products are responsible for most of the plastic waste polluting our seas. This is why consumers are decisively and consciously favoring those companies that make ecology, recycling and sustainability their distinctive feature. The transition from plastic to cardboard in 2020 will surely be a strong growth trend that will involve all sectors, not just food.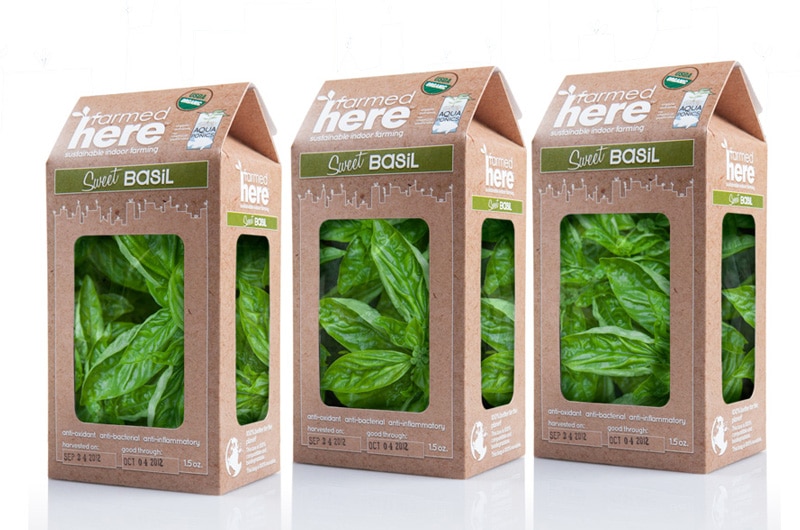 2. Customization
The so-called millennials and the Z generation are rewriting the rules of critical consumption. These buyers expect special and privileged attention based on their own preferences and lifestyles. That is why wrappings, boxes and packages speaking directly to that particular consumer will progressively become more and more successful. It is no coincidence that initiatives such as Coca-Cola's or Toblerone's customization of boxing with people names, a choice replicated by our local Nutella with the additional task of finding a twin jar, have hit success and branding metrics far exceeding expectations. Personalization will be a must have in defining marketing strategies thanks to the evolution of digital technology. But this is a topic we will cover in the near future and that you absolutely cannot miss. This being said, we always recommend that you include some elements targeted to the specific audience in the packaging. The return on investment will certainly be greater.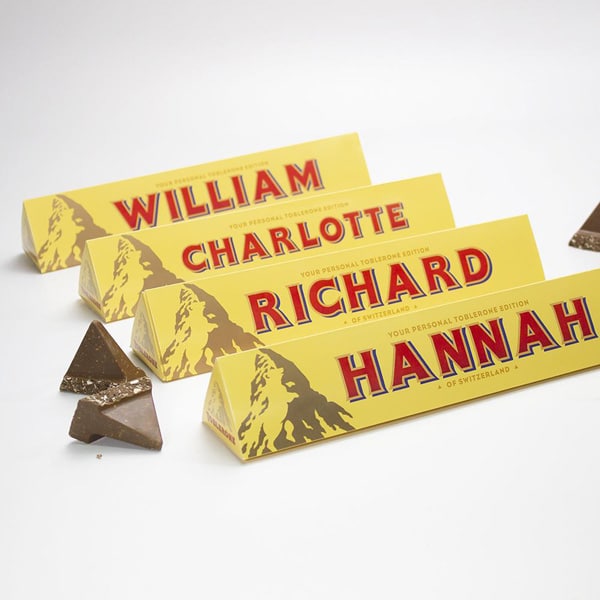 3. Emotional engagement
Another element that goes hand in hand and is a direct consequence of personalization, is the emotional engagement of the buyer. When they buy a product, consumers are purchasing more than a material good, they are somehow participating in the evolution of a story. The emotional approach has always been part of many advertising and marketing campaigns in Italy. These speak to the heart, rather than to the head of the audience, awakening profound emotions and aspirations in it. A timeless example could be Müller yogurt, with the unmistakable slogan "Make love to taste". The focus is not on the characteristics of the ingredients or their nutritional values, but on the sensations created by the unmistakable taste of the well-known dairy product. Dimmidisì Fresh Soups tries to do the same with these packages in festive theme.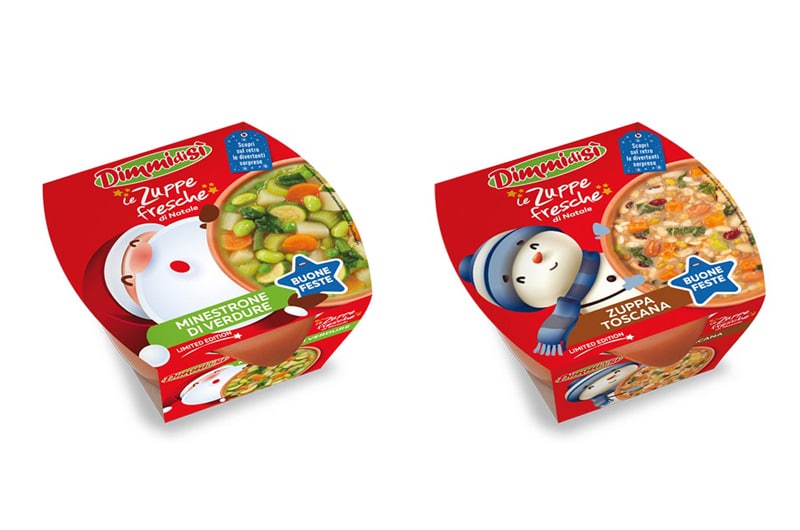 4. Gradient color
Where in recent years we have seen an ever increasing use of saturated and uniform tones and colors, industry experts are betting on the spreading of gradients. The color gradients add multi-dimensionality to the packaging, attracting attention without impairing the graphic impact. We could say that they represent a refined detail, which is on average more intriguing than solid colors.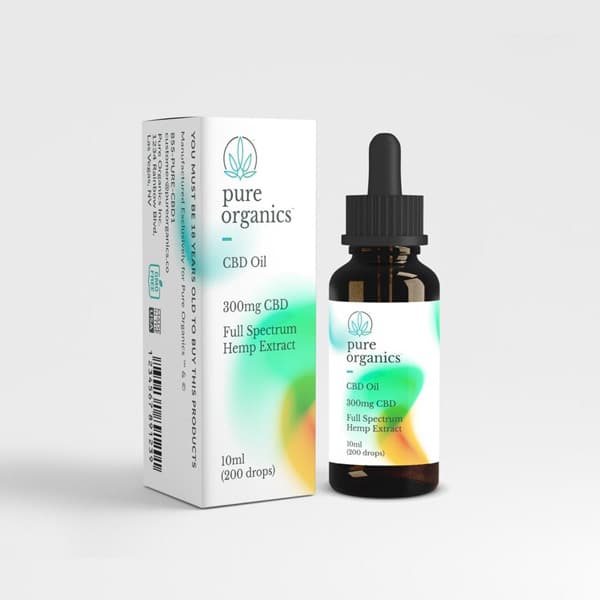 5. Smart Packaging, augmented reality and gamification
In the age of artificial intelligence and the internet of things, packaging could not remain untouched by the introduction of technological innovations. We speak for example of QR codes to be read with the smartphone, smart labels, bar-codes to automate the warehouse flow, reduce waste and facilitate automated checkout processes. These labels can now also be used on metal or plastic containing liquids without problems. Gamification, on the other hand, consists of customer loyalty programs based on games or reward mechanisms through accumulation of points or achievement of set goals. A forerunner – for example – was Foursquare, encouraging users to register in restaurants or public establishments to become their mayors thus getting access to exclusive offers.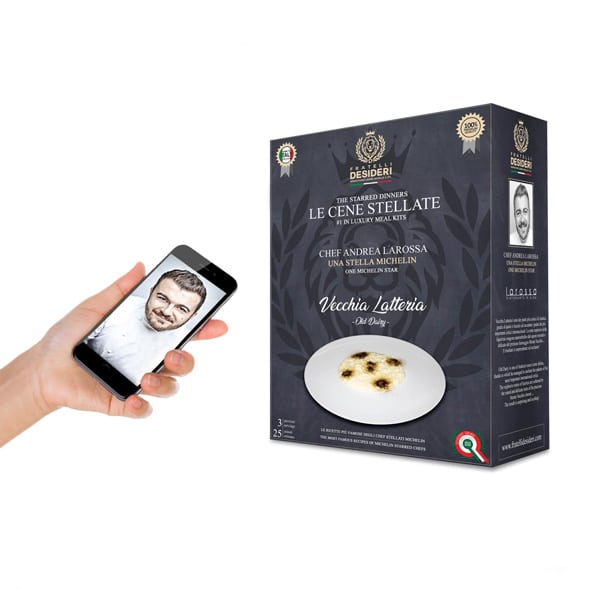 6. Evolution of packaging for eCommerce
eCommerce has become part of the new Italian lifestyle. Suffice it to say that according to data from the Politecnico di Milano, 52% of all online shoppers have a subscription to Amazon Prime. When the shopping experience is not confined within the brick and mortar shop but is taken online, the time of arrival and the consequent unboxing of the package become instrumental with respect to customer satisfaction. Although the products purchased on an eCommerce website travel thousands of kilometers before reaching their respective buyers and therefore have to be adequately protected from thermal or physical shocks, packaging must always be minimal, easy to be disposed of and with limited environmental impact. Simplicity is king, still keeping an eye on the details.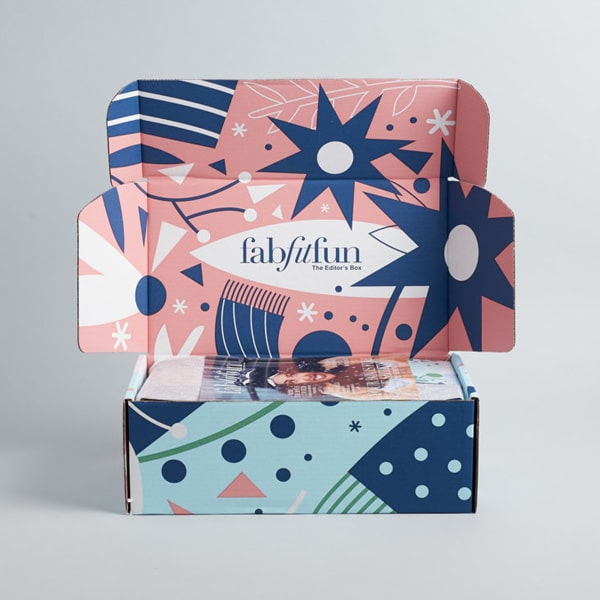 Did you take notes on packaging trends for 2020? As early as January we will be ready to satisfy your most elaborate and specific packaging requests. Start thinking about possible prototypes, even with very small quantities. We are positive that you'll beat all sales forecasts for the year 2020!