Seed packagings that seem miniature books: the new brilliant creation of Here Design for Piccolo products.
Piccolo Seeds is an Italian company that sell seeds primarily intended for cultivation in small spaces. In fact piccolo is the Italian word for small. The brand is targeted to urban growers that live or work in restricted areas and it offer them the chance to create a small contemporary home vegetable garden composed of piccoli and compact products. A vegetable garden that is beautiful, easy to grow and, mostly, useful.
The desire to restyling the company visual identity led to the collaboration between Piccolo and the London-based graphic studio Here Design, the one we talked about in the Riso D'uomo article. The final goal was the renewal of the corporate image to make it consistent with the history and mission of Piccolo Seeds. The result of this collaboration was amazing and perfectly in line with the brand philosophy.
Innovative seed packagings
The redesign process was studied in each detail. The first inspirational element was, with no doubt, the product. Seeds that become solid structure while growing are well represented in the graphic project of Here Design: a granular pattern, composed of small points that turn into the illustrations of the plants while thickening. A thread that unites the product to its result in a harmonious and effective graphic continuum.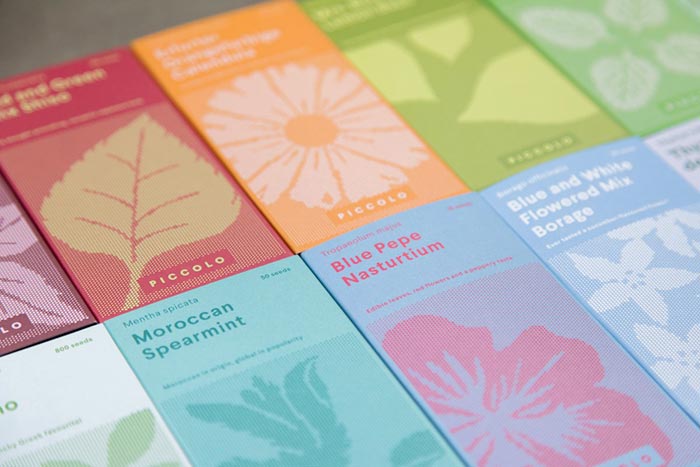 A stable and structured compositional grid contains and supports words, images and colours. The composition becomes the base unit of a unique and cohesive visual language that recurs in every single packaging, just as for the book covers of the same editorial series.
The analogy between seed packagings and books doesn't end here. The structure of the package was designed to be open and leafed like a book and contains all the information and instructions necessary for the cultivation of each product. In addition to these functional annotations, each package contains historical notes, medicinal properties and curiosities related to the plant; there are also suggestions for recipes and cocktails.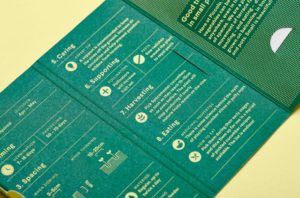 Specifically, the package is made from a rectangular paperboard that was suitably cutted and creased to turn into a sleeve with 3 panels and a closing hook. On one of the internal panel two semicircular cuts hold the seed bags. Another point in favor of these beautiful seed packagings? Sustainable and recyclable materials for sure. The 24 packages created are real mini-volumes to collect!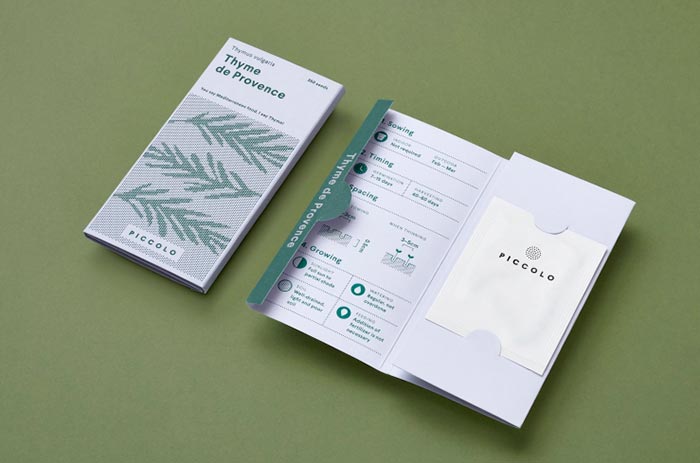 For this project Here Design was able to effectively interpret and represent the values and the mission of Piccolo Seeds creating beautiful, functional and easily recognizable boxes. The graphic and structural intuitions behind the restyling of the brand are really brilliant. If you haven't seen the packages yet, have a look at our photo gallery.