Today we'll unveil how to make packaging viral. One of our loyal customers, Superstuff, has, in fact, combined an effective packaging solution with premium social exposure.
Did you know that packaging can be viral? We recently chatted with Bernardo Gamucci, CEO and Head of Design of The FabLab, a Superstuff brand.
Superstuff was born from the experience of The FabLab, a digital manufacturing laboratory born in 2014. Can you tell us something more about this innovative project?
The Fablab was born just like many other fab labs in Italy in the mid-2010s. However, from the beginning, it had a strong focus on companies. Fablab's mission is to experiment in digital fabrication firstly and then bring these innovations into a corporate context. We do so through training alongside technological and process dissemination activities.
Superstuff is a brand that designs and manufactures products and models in digital fabrication. How did you come up with this idea?
As I said, experimentation in the field of digital fabrication has always been an important activity for us. Having a certain number of 3D printers available, we started thinking about just-in-time manufacturing in 2017. There were, in fact, products that could be printed at night or else when printers were idle. As with all success stories, the "luck" component also played its role for us. Just before Christmas 2017, one of our products went viral on social media. Hence, we first built the Superstuff brand and then an independent company in January.
How and why did you meet Packly?
You must consider product distribution and sales when you think of just-in-time production. The flexibility in packaging creation offered by Packly allows us to test the market reception first. After that, we can validate it without having a high stock of packs.
How did our software simplify the creation of Superstuff viral packaging?
Like above, the convenience of Packly also lies in being able to customize the size of the package. In the past, we have had to modify a product just to be able to use standard packs.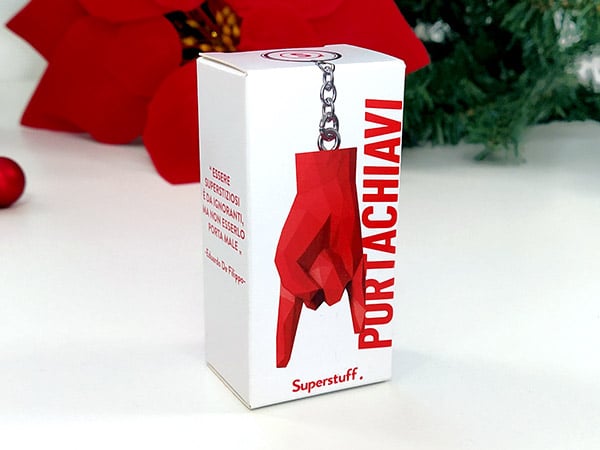 The packaging you created on Packly shares an ironic and intelligent design. If you had to choose a project, which one would it be and why?
It would be like choosing a favorite child. Each of us may have theirs but left unsaid (anyhow, it's the Tiraporchi, the pig thrower).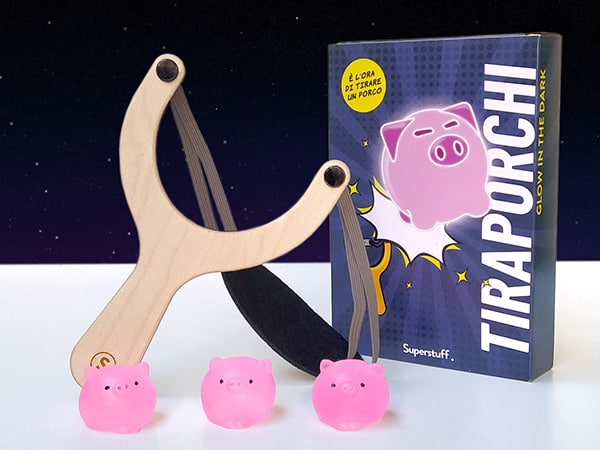 Conclusions on viral packaging
In short: do you want to make your packaging memorable? Try creating a prototype from our new interface. We can print it in small and large runs, shipping it worldwide!