Entering a new workplace with a welcome kit can make a huge difference to staff morale and to build a lasting professional relationship
"September let's go, it's time to migrate" recited a poem by Gabriele D'Annunzio and it is true that often job changes and new professional adventures begin right after the summer break. Whether you have hired an intern, an external consultant or a full time employee, one thing is established: a welcome kit can start a more successful collaboration.
Richard Branson, billionaire founder of Virgin, has no doubts about it and says: "Customers never come first, employees come first. If you take care of your employees, they will take care of your customers ". If a worker identifies with corporate culture and values and feels part of a cohesive and functional team, his motivation will remain constant, their commitment will be spontaneous and he will always refer to the company saying "we", because they will feel like an integral part of the mission.
So how does the employer start the journey on the right foot?
Well the first impact is important, after all there is no second chance to make a good first impression. To break the ice, make the newcomer feel welcomed and help him find his way around the new working environment, we selected examples of welcome kits that are complete and easy to reproduce, besides being suitable for companies of all types and sizes.
Regardless of the business function, there will be universally useful gadgets for anyone crossing the door to your company. This welcome kit contains a t-shirt, which identifies the worker with the brand and advertises it for free, a branded water bottle (because drinking a lot is important and it is not worthwhile using polluting glasses in hardly recyclable plastic), a mug for coffee or tea for the sacred pauses and, last but not least, a notebook with a pen, to mark names, departments and business processes crucial to be able to execute tasks. Everything is stuffed into a practical personalized shopper, to be used to carry everything home but also to do the shopping or bring lunch to the office.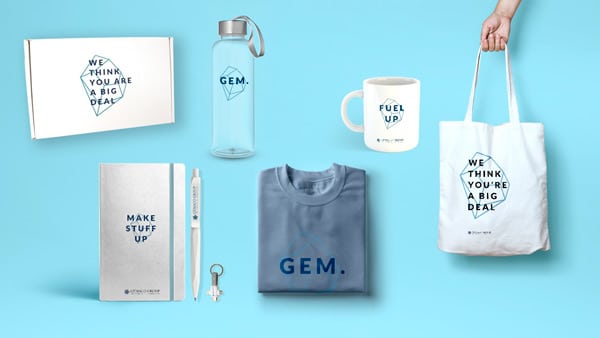 Employees are usually supplied with technological tools such as computers, mobile phones, etc. It is a good idea, therefore, to include custom accessories in the welcome kit that are always useful, such as a memory stick for data storage, a powerbank to recharge the company smartphone, a badge holder etc. The look and feel should be more or less like the one shown in the photo by Boundless, after the necessary customizations.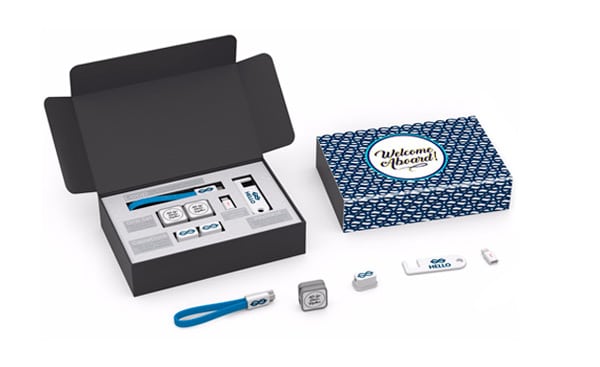 It is also important to include references to the values and culture of the company in the welcome kit: a company mission, a copy of brand statements, corporate behaviors, etc. Element Three did it directly on the inside of the box lid, so that the message is the first thing you read during the unboxing, leaving an indelible imprint in the new employee, bound to stay throughout his stay

Vodafone in this example goes decidedly for tech with personalized mouse, earphones and accessories, plus a very handy promo-string for the badge, which the most devoted employees can also use for the car or house keys, a trademark that also defines them outside of the office.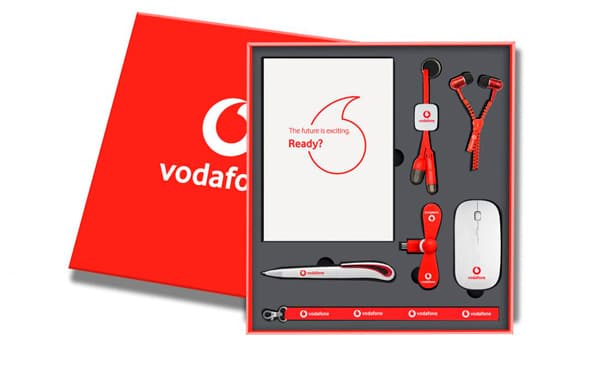 If, on the other hand, you don't want to complicate things and prefer the "keep it simple" approach, a box with some motivational quote, a pen to put in the pocket and maybe candies, like the ones shown in the picture, could suffice to mitigate the performance anxiety of the beginnings and ease the strenuous ride of the newly hired.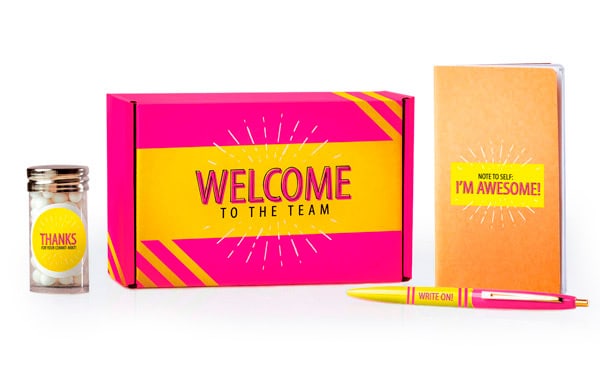 Conclusions
Have you recently welcomed new employees and didn't think of the welcome kit? Did you get inspired? Well, you still have time. Choose gadgets, create a prototype with Packly and who knows … You may have found the best employer branding tool for your business.